Lord, Adele (2019) Land to the rear of 9 to 17 Hawes Lane, Wicken, Cambridgeshire. [Client Report] (Unpublished)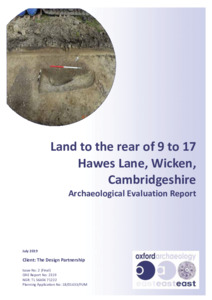 Preview
PDF




OAE_Report_2319_Hawes Lane, Wicken_LR.pdf


Available under License Creative Commons Attribution Share Alike.
Download (6MB) | Preview
Abstract
Between the 9th and 11th March 2019 Oxford Archaeology East undertook an archaeological evaluation on land to the rear of 9 to 17 Hawes Lane, Wicken, Cambridgeshire (centred TL 56404 71222).
A total of six trenches were excavated within the development area of c.0.6ha, located at the edge of a plateau of higher ground to the north-west of the village. These trenches revealed a fairly dense concentration of Late Iron Age to Early Romano-British archaeological features, including numerous pits and ditches indicative of settlement activity, along with a modern service trench and a possible pond.
The features, as well as the topsoil and subsoil overburden, yielded a fairly sizeable assemblage of finds, including 1.24kg of Late Iron Age to Middle Roman pottery (c.AD0- 150), animal bone (several items showing evidence of butchery or working), fired clay and modern ceramic building material.
Overall, the archaeological works have confirmed the presence of preserved archaeological remains across the entirety of the site.
Item Type:
Client Report
Uncontrolled Keywords:
Cambridgeshire, cambridgeshire, Wicken, wicken, Evaluation, evaluation, archaeological evaluation, Iron Age, Late Iron Age, Roman, iron age, late iron age, roman, Iron Age pottery, Late Iron Age pottery, Roman pottery, iron age pottery, late iron age pottery, roman pottery, Pottery, pottery, pot, sherd, ceramic, CBM, cbm, Ceramic Building Material, ceramic building material, animal remains, animal bones, animal bone, butchery mark, butchery marks, modification, Fired Clay, fired clay, Medieval, medieval, Medieval pottery, medieval pottery, pit, pits, ditch, ditches, boundary ditch, boundary ditches, gully, post hole, posthole, settlement activity, settlement, pond, 2319, report 2319, Report 2319, OAE report 2319
Subjects:
Geographical Areas > English Counties > Cambridgeshire
Period > UK Periods > Iron Age 800 BC - 43 AD
Period > UK Periods > Iron Age 800 BC - 43 AD > Late Iron Age 100 BC - 43 AD
Period > UK Periods > Medieval 1066 - 1540 AD
Period > UK Periods > Modern 1901 - present
Period > UK Periods > Roman 43 - 410 AD
Divisions:
Oxford Archaeology East
Depositing User:

Hamilton

Date Deposited:
17 Jul 2019 07:27
Last Modified:
17 Jul 2019 07:27
URI:
http://eprints.oxfordarchaeology.com/id/eprint/5068
Actions (login required)