Macaulay, Stephen (2003) An Archaeological Desktop Assessment: The new Milton Road Primary School Site, Cambridge. [Client Report] (Unpublished)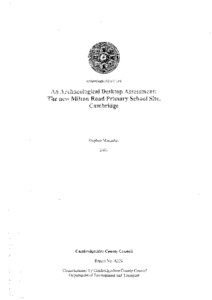 Preview
PDF




CCCAFU_reportA221.pdf


Available under License Creative Commons Attribution Share Alike.
Download (9MB) | Preview
Abstract
This study is designed to assess the archaeological potential of an area of land (presently school playing fields) immediately to the south of the Lady Adrian School (Courtney Way, Cambridge). This land lies to the north of the centre of Cambridge City, within Chesterton Parish, east of Gilbert Road and north of Milton Road (TL 45300 60000). The land is the proposed site of the new Milton Road Primary School. The study was commissioned by Dean Clark (Design Team Leader) of Cambridgeshire County Council (Property & Procurement) in advance of a planning application.
Although no archaeological remains have been recorded within the development area, the present study shows that the site lies within a rich and important archaeological landscape. The site has significant archaeological remains surrounding it, notably the complex multi-period site at Castle Hill (Shire Hall) lying c900m southwest and the extensive Roman (and multi-period) site(s) on Arbury Road and around Kings Hedges, some 500-1300m north.
Prehistoric (Neolithic) remains have been found 400m to the west (on Stretten Avenue).
Within 500m of the subject site are known Roman remains located to the south of Arbury Road (lying less than 400m to the north of the development area) and the Roman Road of Akeman Street also less than 400m to the west (along present day Carlton Way).
There are known Saxon remains to the south and east of the proposed development area, and these include an Anglo-Saxon cemetery site (Swann's Gravel Pit) now occupied by the Westbrook Centre (off Milton Road).
Historical cartographic evidence has confirmed that the subject site has not been developed since at least the 19th century and most probably was agricultural since the medieval period at least.
This lack of development is the most likely explanation for the absence of any archaeological discoveries on the site and given the extent of known archaeological remains in the vicinity, remains of Roman and perhaps Saxon date may reasonably be expected to be encountered.
Item Type:
Client Report
Uncontrolled Keywords:
Chesterton, chesterton, Cambridgeshire, cambridgeshire, A221, Neolithic, neolithic, Roman, roman, Anglo-Saxon, anglo-saxon, road, cemetery, DBA, dba, Desk-Based Assessment, Desk-based Assessment, desk-based assessment, a221, report a221, report A221, Report a221, Report A221, CCCAFU report A221
Subjects:
Geographical Areas > English Counties > Cambridgeshire
Period > UK Periods > Early Medieval 410 - 1066 AD
Period > UK Periods > Neolithic 4000 - 2200 BC
Period > UK Periods > Roman 43 - 410 AD
Depositing User:

Archives

Date Deposited:
02 Oct 2019 12:37
Last Modified:
02 Oct 2019 12:37
URI:
http://eprints.oxfordarchaeology.com/id/eprint/5073
Actions (login required)