Hatton, A. and Kemp, S. N. (2002) Iron Age and Roman Archaeology along the proposed route of the Papworth By-pass: An Archaeological Evaluation. [Client Report] (Unpublished)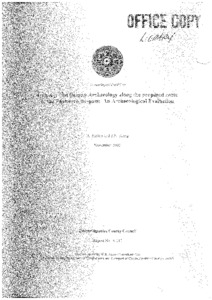 Preview
PDF




CCCAFU_reportA211.pdf


Available under License Creative Commons Attribution Share Alike.
Download (32MB) | Preview
Abstract
Between August and September 2002, the Archaeological Field Unit of Cambridgehire County Council (AFU) carried out an archaeological evaluation along the proposed route of the Papworth By-pass between NGR TL 290/620 and 278/627 and NGR 278/627 and 284/639 (Fig 1). The work was commissioned by W.S. Atkins Consultants Ltd on behalf of the Department of Transport of Cambridgeshire County Council.
The proposed route of the by-pass runs approximately 2km in a north-east to south-west direction west of Papworth Everard, almost parallel to the present St Ives Road (B1040), which stems from the main access-route through the village (A1198/Ermine Street). It then turns sharply south-eastward for c. 1.5km to link back with Ermine Street south of the village where the by-pass integrates with the A1198. The corridor of the road is approximately 30m wide, including the embankments.
A desktop study of the local resources was undertaken prior to the evaluation in order to assess the archaeological potential of the area that will be affected by the road scheme (Casa Hatton 2001).
The evaluation consisted of the excavation of 48 trenches using mechanical excavator with a 2.1m ditching bucket. The total length of trenching was approximately 2500m and totalled 5250sq.m. This was equivalent to a 5% sample of the by-pas route. The trenches were located across the route of the by-pass in order to obtain a representative coverage of the area under investigation.
Although archaeological remains were recorded along much of the route of the proposed by-pass three areas of more concentrated human activity were identified. Many of the features excavated within the three areas provided dating evidence ranging between the late prehistoric through to the 3rd century Romano-British period. These three areas also provided evidence of small-scale industrial activity together with agricultural practises identified through the presence of enclosure ditches. The presence of an enclosure in apparent isolation from the other two main areas of activity does suggest that it had an alternative use, possibly ceremonial.
Item Type:
Client Report
Uncontrolled Keywords:
Papworth, papworth, Cambridgeshire, cambridgeshire, A211, Iron Age, iron age, Roman, roman, industrial, agricultural, agriculture, enclosure, ceremonial, Papworth Everard, papworth everard, report a211, report A211, Report a211, Report A211, CCCAFU report A211, ditch, ditches, enclosure ditch, enclosure ditches
Subjects:
Geographical Areas > English Counties > Cambridgeshire
Period > UK Periods > Iron Age 800 BC - 43 AD
Period > UK Periods > Roman 43 - 410 AD
Depositing User:

Archives

Date Deposited:
23 Oct 2019 10:55
Last Modified:
23 Oct 2019 10:55
URI:
http://eprints.oxfordarchaeology.com/id/eprint/5077
Actions (login required)