Kemp, S. N. (2002) Archaeological evaluations at the Hinxton Genome Campus Extension, West of the River Cam. [Client Report] (Unpublished)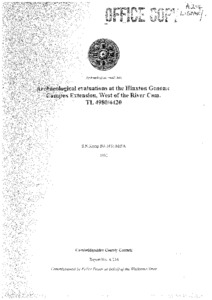 Preview
PDF




CCCAFU_reportA214.pdf


Available under License Creative Commons Attribution Share Alike.
Download (9MB) | Preview
Abstract
During the course of September 2002 the Archaeological Field Unit of Cambridgeshire County undertook archaeological evaluations within areas of the Hinxton Genome Campus extension immediately west of the River Cam and adjacent to the village of Ickleton (TL 4980/4420). Evaluations were commissioned by the Wellcome Trust.
Evaluations showed a sequence of riverside sedimentation which includes palaeochannels and areas of degraded peat which conform to the spatial sequence shown on the aerial photographs. The best preserved sequence lies immediately adjacent to the River Cam and shows that other than by overbank flooding the River Cam has during prehistoric and historic times been largely restricted to its current course. Up to 1m of river edge sediments were observed in the evaluation trenches. Thee sediments consist of about 0.20m of organic sediment and peat overlying glacial gravels which are in turn overlaid by about 0.60m of alluvium of Iron Age to medieval date. Topsoil overlies the alluvium/
Three of the evaluation trenches contained archaeological remains. The most important remains consist of broken and incomplete wooden artefacts and related wood working debris. These lie at the base of a natural channel. The channel cuts through the peat and is capped by alluvium.
One of the fragments of wood has been radiocarbon dated and has been found to date to between 770 and 1000AD. This date is interesting as firstly it suggests an association with the Saxon settlement at Hinxton excavated in 1994 and secondly that a major phase of alluviation occurred in this part of the Cam Valley more recently than originally expected.
Wood of Oak and Ash was retrieved during the course of the evaluation. These species are unlikely to have been naturally occurring in this wet environment. This points to the importation of wood and that a specialist working site lies in the vicinity. The occurrence of the worked wood in the channel may indicate that the wood has drifted in to this location, alternatively waste materials may have been dumped at this site. Exact location of the 'carpenters yard' is presently unknown but it is thought that this area was too wet for a workshop at this time and in addition no archaeology has been found on the higher gravels further to the west. This information seems to support the idea that the remains are either a dump of waste materials or have been washed into this channel.
In two of the other trenches lay a ditch which appears to mark the boundary between dry and wet land. This ditch remains undated, however, the stratigraphic information would seem to suggest that it is of a historic date.
The importance of this area is in its potential to supply artefactual materials which are not commonly available to dry archaeological sites as in the case of excavations occurring on the eastern side of the river. The survival of wood and other organic materials provide dating and allow a wider understanding of the local craft industries. The deposits in this area also provide important environmental information which allows the archaeologist and palaeoenvironmentalist to build up a model of past local environment i.e percentages of tree cover, grassland/arable etc. The Geography Department of Cambridge University have since started working on the history of the local environment
Item Type:
Client Report
Uncontrolled Keywords:
Hinxton, hinxton, Ickleton, ickleton, Cambridgeshire, cambridgeshire, A214, Anglo-Saxon, anglo-saxon, Early medieval, early medieval, organic, wood working, debris, channel, palaeochannel, palaeo-channel, ditch, boundary ditch, oak, ash, carpenter, boundary, waste dump, wood, worked wood, artefact, wooden artefact, Evaluation, evaluation, archaeological evaluation, A214, a214, Report a214, report a214, report A214, Report A214, CCCAFU report A214
Subjects:
Geographical Areas > English Counties > Cambridgeshire
Period > UK Periods > Early Medieval 410 - 1066 AD
Depositing User:

Archives

Date Deposited:
03 Feb 2020 14:31
Last Modified:
03 Feb 2020 14:31
URI:
http://eprints.oxfordarchaeology.com/id/eprint/5080
Actions (login required)