Atkins, Robert (2003) Early Medieval Features at Newton County Primary School, Eltisley, Cambridgeshire; An Archaeological Evaluation. [Client Report] (Unpublished)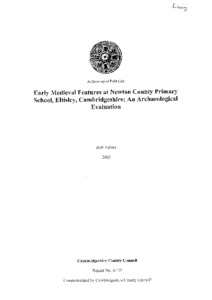 Preview
PDF




CCCAFU_reportA223.pdf


Available under License Creative Commons Attribution Share Alike.
Download (2MB) | Preview
Abstract
On the 27th and 28th May 2003 the Archaeological Field Unit (AFU) of Cambridgeshire County Council conducted and archaeological evaluation at Newton County Primary School, Eltisley, Cambridgeshire (TL 2724/5951) in advance of construction of a school hall.
An eight metre long trench was mechanically excavated within the proposed development area (c.150m2). Directly below the topsoil and subsoil there were at least two phases of archaeological features. The earliest features were a north-south ditch and a pit cutting natural clay (both did not produce clear dating evidence). The pit contained a fragment of human hipbone. A large early medieval pit, c.1200-1300AD, cut both these features. It was backfilled with large amounts of charred cereal grains; wheat, moderate amounts of oats and possibly rye, weed seeds and others. An adjacent early medieval north-south ditch may be contemporary with this pit.
The archaeology may represent back plots to either houses fronting the roadway to Caxton or the route way to the moated manor to the east of the site. The land seems to have become fields in the later/post-medieval period as the archaeological features were sealed by former ridge and furrow. This ridge and furrow was removed when the school was built.
Item Type:
Client Report
Uncontrolled Keywords:
archaeological evaluation, evaluation, Evaluation, Cambridgeshire, cambridgeshire, Eltisley, eltisley, Newton Primary School, newton primary school, Medieval, medieval, Post Medieval, post medieval, Post-Medieval, post-medieval, pit, ditch, CPR, cpr, charred cereal grains, wheat, oats, rye, furrow, ridge and furrow, human bone, HSR, hsr, Human Remains, human remains, pottery, Pottery, pot, ceramic, sherd, Medieval pottery, medieval pottery, Post Medieval pottery, post medieval pottery, Post-Medieval pottery, post-medieval pottery, A223, a223, report a223, Report a223, Report A223, report A223, CCCAFU report A223
Subjects:
Geographical Areas > English Counties > Cambridgeshire
Period > UK Periods > Medieval 1066 - 1540 AD
Period > UK Periods > Post Medieval 1540 - 1901 AD
Depositing User:

Archives

Date Deposited:
11 Feb 2020 07:46
Last Modified:
11 Feb 2020 07:46
URI:
http://eprints.oxfordarchaeology.com/id/eprint/5082
Actions (login required)