Bolderson, John and Atkins, Robert (2003) Prehistoric and Roman Features at Roman Way, Godmanchester, Cambridgeshire: An Archaeological Evaluation. [Client Report] (Unpublished)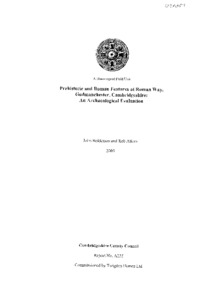 Preview
PDF




CCCAFU_reportA235.pdf


Available under License Creative Commons Attribution Share Alike.
Download (4MB) | Preview
Abstract
During August 2003 the Archaeological Field Unit (AFU) of Cambridgeshire County Council conducted an archaeological evaluation at Roman Way, Godmanchester, Cambridgeshire (TL252 699) in advance of the construction of 60 houses.
Seven trenches, totalling 450m in length were excavated. The evaluation revealed a range of (heavily truncated) archaeological features. These features consisted of pits, some of prehistoric date, and ditches of Roman and later origin. The relative paucity and abraded condition of finds from the Roman and later periods implies that the site occupied a peripheral location from the known settlement loci.
Aerial photographs indicated that the site was located within the medieval field system around Godmanchester until recent times. The archaeological features on the site were heavily truncated and compacted by development work c.20 years ago. The development has also resulted in many areas of modern disturbance across the subject site.
Item Type:
Client Report
Uncontrolled Keywords:
archaeological evaluation, Evaluation, evaluation, Cambridgeshire, cambridgeshire, Godmanchester, godmanchester,A235, a235, report a235, report A235, Report a235, Report A235, CCCAFU report A235, Roman, roman, Medieval, medieval, Post-Medieval, post-medieval, post medieval, Post Medieval, pit, pottery, Pottery, pot, ceramic, sherd, animal bone, animal bones, bone, bones, animal remains, daub, fired clay, CBM, cbm, Ceramic Building Material, ceramic building material, tile, roof tile, glazed roof tile, glazed tile, glaze, Horningsea ware, horningsea ware, Roman pottery, roman pottery, Medieval pottery, medieval pottery, Post-Medieval pottery, post-medieval pottery, post medieval pottery, Post Medieval pottery, field system, agriculture, medieval field system, truncation, truncated, truncated feature, truncated features
Subjects:
Geographical Areas > English Counties > Cambridgeshire
Period > UK Periods > Early Medieval 410 - 1066 AD
Period > UK Periods > Medieval 1066 - 1540 AD
Period > UK Periods > Post Medieval 1540 - 1901 AD
Period > UK Periods > Roman 43 - 410 AD
Depositing User:

Archives

Date Deposited:
17 Feb 2020 10:05
Last Modified:
17 Feb 2020 10:05
URI:
http://eprints.oxfordarchaeology.com/id/eprint/5091
Actions (login required)