Casa-Hatton, Rebecca (2003) Evidence for Akeman Street Roman Road at New Farm, Green End, Landbeach: An Archaeological Evaluation. [Client Report] (Unpublished)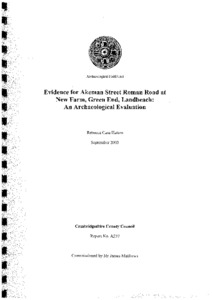 Preview
PDF




CCCAFU_reportA237.pdf


Available under License Creative Commons Attribution Share Alike.
Download (3MB) | Preview
Abstract
On the 22nd and 23rd September 2003 staff of the Archaeological Field Unit of Cambridgeshire County Council (AFU) conducted and archaeological evaluation at New Farm, Green End, Landbeach (TL 4683 6646). The work was carried out in advance of re-development of former farm buildings proposed by Mr James Matthews who also commissioned the work.
The development site is c.1km to the north of the historic village of Landbeach on the line of the Roman road, Akeman Street, and west of the Roman Car Dyke. The evaluation aimed to establish the presence/absence, nature and degree of preservation of archaeological remains in an area of high archaeological potential, with particular reference to Akeman Street.
Two trenches were excavated. The length of trenching was 28m giving a 10.8% sample of the 0.03ha development area. Both trenches contained archaeological remains associated with the Roman road.
The evaluation revealed the remains of Akeman Street, known from cropmarks visible on aerial photographs. The road had been severely damaged by modern farming practices which had caused the almost entire obliteration of the agger (raised causeway which served as the foundation for the construction of Roman roads). The roadside ditches were still well preserved underneath a layer of debris from the recent demolition of the farm buildings.
Three main phases of activity were identified. The earliest phase dated to the Roman period and was characterised by the presence of Akeman Street. Two undated/post Roman? shallow features may have represented the remains of small quarry pits associated with later repairs to the agger.
The latest phase of activity was represented by remains of an early 20th century post-built structure (fence or shed) associated with the farm buildings which had been demolished before the archaeological evaluation.
Item Type:
Client Report
Uncontrolled Keywords:
archaeological evaluation, archaeological excavation, Cambridgeshire, cambridgeshire, Landbeach, landbeach, Report a237, report a237, Report A237, Report A237, A237, a237, CCCAFU report A237, Roman, roman, Post Medieval, post medieval, Post-Medieval, post-medieval, Roman road, roman road, Akeman Street, akeman street, agger, cropmark, cropmarks, pit, quarry, quarrying, quarry pit, post hole, posthole, oyster shell, modern, Modern, post built structure, farm building
Subjects:
Geographical Areas > English Counties > Cambridgeshire
Period > UK Periods > Modern 1901 - present
Period > UK Periods > Post Medieval 1540 - 1901 AD
Period > UK Periods > Roman 43 - 410 AD
Depositing User:

Archives

Date Deposited:
16 Dec 2019 11:03
Last Modified:
16 Dec 2019 11:08
URI:
http://eprints.oxfordarchaeology.com/id/eprint/5092
Actions (login required)