Tsybaeva, Daria (2018) Fulbourn Primary School, Fulbourn, Cambridgeshire. [Client Report] (Unpublished)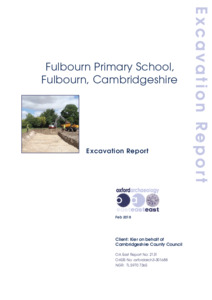 Preview
PDF




FULPRS17EX_2131_LR.pdf


Available under License Creative Commons Attribution Share Alike.
Download (5MB) | Preview
Abstract
In July 2017 Oxford Archaeology East has carried out a small area excavation at the playing fields of Fulbourn Primary School prior to development. The excavation confirmed prehistoric and Roman activity in the area and revealed part of a Saxo-Norman settlement dated to 10th-12th century.
Two post hole built rectangular houses, a well and pits represented a phase of Late Saxon occupation. This was replaced by a possible trackway leading towards the 111th to 12th century settlement at Hall Farm to the east. Finally a large boundary ditch was dug that appeared to disregard the former settlement layout..
The results of the excavation correlate to the findings from nearby Hall Farm excavations (Bradley-Lovekin 2008) where post hole and beam slot buildings, ditches, wells and a hearth were found to have a number of similarities, including alignment.
Fragments of animal bones, baked clay and pottery sherds mainly dated to mid 11th – mid 12th century have been retrieved from the site. An assemblage of likely residual Late Neolithic Grooved Ware, along with small numbers of Iron Age and Roman pottery sherds have also been found. Two pits produced residues of peat-burning, vegetables, legumes and other domestic waste as well as a 9th-10th century ceramic spindle whorl.
Item Type:
Client Report
Uncontrolled Keywords:
Excavation, excavation, archaeological excavation, Cambridgeshire, cambridgeshire, Fulborun, fulbourn, full report, Roman, roman, Prehistoric, prehistoric, Early Medieval, early medieval, Medieval, medieval, pottery, Pottery, animal bone, animal bones, animal remains, bone, bones, spindlewhorl, spindle whorl, post, post built, post built structure, post built house, structure, structures, well, pit, pits, settlement, trackway, boundary ditch, ditch, Late Neolithic Grooved Ware, late neolithic grooved ware, grooved ware, Iron Age, iron age, Iron Age pottery, iron age pottery, peat-burning, peat burning, Hall Farm, 2131, report 2131, Report 2131, OAE report 2131
Subjects:
Geographical Areas > English Counties > Cambridgeshire
Period > UK Periods > Early Medieval 410 - 1066 AD
Period > UK Periods > Iron Age 800 BC - 43 AD
Period > UK Periods > Medieval 1066 - 1540 AD
Period > UK Periods > Roman 43 - 410 AD
Divisions:
Oxford Archaeology East
Depositing User:

Hamilton

Date Deposited:
29 Jul 2019 10:50
Last Modified:
29 Jul 2019 10:50
URI:
http://eprints.oxfordarchaeology.com/id/eprint/5097
Actions (login required)