Druce, Denise (2006) Walney Offshore Windfarm, Cleveleys & Heysham, Lancashire. Palaeoenvironmental Assessment. [Client Report] (Unpublished)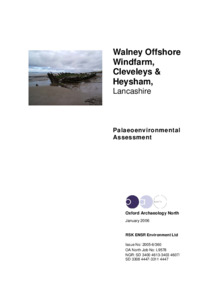 Preview
PDF




completereport.pdf


Download (2MB) | Preview
Abstract
Oxford Archaeology North (OA North) was commissioned by RSK ENSR Environment Limited to undertake a palaeoenvironmental assessment along two overland routes for electric cables, associated with the proposed Walney Offshore Windfarm, 21.8 km off the western coast of Lancaster. Electricity cabling between the proposed windfarm and two destinations at Heysham and Cleveleys would pass under the sea and onto intertidal deposits at Half Moon Bay, Heysham (NGR SD 3400 4613 – 3403 4607) and the foreshore at Cleveleys (SD 3308 4447 – 3311 4447).
A rapid walkover was first carried out along each of the proposed routes in order to identify the presence of any archaeological features, organic deposits, and palaeochannels, that might influence the location of core samples. The environmental archaeological fieldwork was undertaken from 7th to 9th September 2005 to take advantage of a period of low tides and comprised two stages: firstly, a total of nine palaeoenvironmental sampling cores, up to 2m deep, were taken at roughly 80m intervals along the cable route on the intertidal foreshore at Heysham, secondly, six 2m deep cores were taken roughly every 50m along the cable route on the foreshore at Cleveleys.
As a result of the coring and the walkover of the intertidal area, no alluvial clay/peat deposits or palaeochannels were evident on the routes of the cables; therefore, no further palaeoenvironmental analysis of the core samples is recommended, nor should further field investigations be necessary unless the cable route deviates from that
examined. A nineteenth century boat wreck is situated roughly 100m west of the Heysham cable route (Plate 1).
Actions (login required)