Dawson, Jo (2005) Radcliffe Riverside Schools East and West Campuses, Radcliffe, Greater Manchester. Archaeological Desk-Based Assessment. [Client Report] (Unpublished)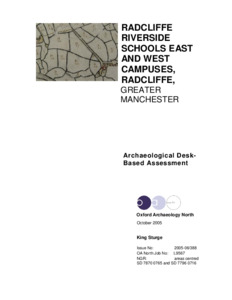 Preview
PDF




Full Schools Report 010509.pdf


Download (85MB) | Preview
Abstract
Oxford Archaeology North was commissioned by King Sturge, acting on behalf of Bury Local Education Authority, to undertake an archaeological desk-based assessment of the sites of Radcliffe Riverside School East and West Campuses in advance of proposed residential development (areas centred SD 7796 0716 and SD 7870 0765). The archaeological work, which was undertaken in July and August 2005, was requested to inform development proposals and associated future planning applications.
The desk-based assessment demonstrated that both sites had been agricultural land until at least the mid-nineteenth century. The eastern part of the site of the East Campus was developed when railways became established in the area during the mid to late nineteenth century, whilst the West Campus remained devoid of significant development until 1932 when Radcliffe Central Senior School was constructed. This
was the first comprehensive senior school to be built in Radcliffe. The second, Coney Green High School, was not built until around 1975 on the East Campus site, replacing the Goods Yard and other railway development.
The assessed significance of the sites identified within the two campus areas, and the likely impact of any future development will have upon them, has contributed to
recommendations for archaeological mitigation. These include a programme of archaeological evaluation trenching and limited geo-physical survey that should be targeted on five sites of potential significance. The objective of any such work would be to establish the presence or absence of buried archaeological remains, which would further inform future planning applications for the redevelopment of the sites. In
addition, the extant school building occupying the West Campus is of local significance, and is worthy of some archaeological record. A rapid photographic survey may be an appropriate course of mitigation.
Actions (login required)