Atkins, Robert (2004) Iron Age and Roman-British Settlement at land off Wimblington Road, March: Post-Excavation Assessment. [Client Report] (Unpublished)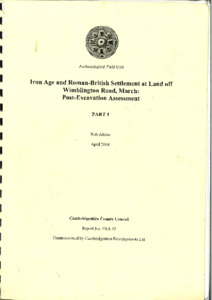 Preview
PDF




CCCAFU_reportPXA43_part1.pdf


Available under License Creative Commons Attribution Share Alike.
Download (5MB) | Preview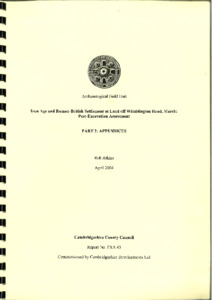 Preview
PDF




CCCAFUreportPXA43_part2.pdf


Available under License Creative Commons Attribution Share Alike.
Download (3MB) | Preview
Abstract
Excavation of an area of land (0.2 ha) off Wimblington Road, March, Cambridgeshire, was conducted in February 3003 by Cambridgeshire County Council Archaeological Field Unit (AFU). Important evidence for occupation from the 1st century BC (Late Iron Age) to the the early 3rd century AD (Roman) was revealed.
The excavation uncovered only a small part of a much larger settlement. The Late Iron Age and transitional periods were marked by some continuity of enclosures with internal domestic structures. In the Early Roman phase there was a shift in emphasis to field systems with possible fence lines, on north to south and east to west alignments. The Middle Roman period again indicated a shift is emphasis with evidence of an enclosure and a post hole structure, east to west boundary ditches, an east to west trackway and rubbish pits.
The settlement was located on low lying land (c.3.5m OD), in open marginal damp grassland, which was intermittently utilised for cereal production. Pollen and soil samples demonstrate that standing water was common within the ditches of all phases and that these ditches often contained various tall-herb and riparian communities. Briquetage recovered as secondary deposits in small quantities in all phases may indicate that the settlement was involved at least in part in salt production which presumably took place in the slightly lower lying land to the west (on the fen edge). Animal stock rearing is indicated in all periods, though there was only secondary evidence of cereal processing waste in the transitional and Middle Roman phases, and a little malting waste in a Middle Roman phase. Artefactual evidence (pottery, animal bones, metalwork, quern stones, as well as secondary deposits of industrial lining from metal working (e.g. hearths) and pottery wasters) implies a domestic fairly self-sufficient community of average status with some limited access to high status products.
Two large early post-medieval quarry pits, presumable for sand, were found at the north-west corner of the site. There was relatively little evidence for modern activity with only a few Victorian pits present before the site became back plots to 20th century houses fronting onto Wimblington Road.
Item Type:
Client Report
Uncontrolled Keywords:
Excavation, excavation, archaeological excavation, cambridgeshire, Cambridgeshire, March, march, Iron Age, iron age, Roman, roman, Post-Medieval, post-medieval, Post Medieval, post medieval, settlement, Settlement, farming, agriculture, livestock, field system, field systems, enclosure, enclosures, pottery, Pottery, pot, ceramic, sherd, Iron Age pottery, iron age pottery, Roman pottery, roman pottery, Post-Medieval pottery, post-medieval pottery, Post Medieval pottery, post medieval pottery, Medieval pottery, medieval pottery, animal bone, animal bones, animal remains, bone, bones, metalwork, coin, coins, Nero, Charles I, pin, silver pin, brooch, pit, pits, ditch, ditches, boundary, boundary ditch, boundaries, boundary ditches, fence line, ecofact, ecofacts, pollen samples, pollen, standing water, transition, transitional, PXA, pxa, Post-Excavation Assessment, post-excavation assessment, PXA43, PXA 43, pxa43, pxa 43, CCCAFU report PXA43
Subjects:
Geographical Areas > English Counties > Cambridgeshire
Period > UK Periods > Iron Age 800 BC - 43 AD
Period > UK Periods > Medieval 1066 - 1540 AD
Period > UK Periods > Post Medieval 1540 - 1901 AD
Period > UK Periods > Roman 43 - 410 AD
Depositing User:

Hamilton

Date Deposited:
05 Aug 2019 10:54
Last Modified:
05 Aug 2019 10:54
URI:
http://eprints.oxfordarchaeology.com/id/eprint/5120
Actions (login required)