Mason, Neal (2019) Ringstead Sustainability Reduction Scheme. [Client Report] (Unpublished)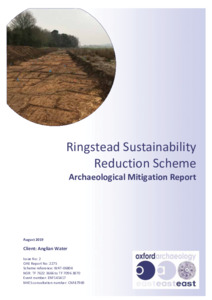 Preview
PDF




OAE_Report2275_XNFRSS18_FINAL_LR.pdf


Available under License Creative Commons Attribution Share Alike.
Download (5MB) | Preview
Abstract
Between the 1st of November 2018 and the 20th of February 2019 Oxford Archaeology East (OA East) conducted a programme of archaeological work comprising trial trenching, excavation and monitoring along three sections of the Anglia Water Ringstead Sustainability Reduction Scheme pipeline, between the modern villages of Ringstead, Sedgeford and Docking, northwest Norfolk (TF 7622 3666 to TF 7096 3870).
The most significant archaeological remains were encountered towards the western end of the route, little more than 100m west of the Peddars Way Roman road, where trial trenching revealed a series of north to south and east to west aligned ditches and gullies of Roman date. As a result of the trenching, an excavation area measuring 8m by 190m was opened around the Roman remains prior to the construction of the pipeline.
This excavation revealed that the ditches found during the trial trenching were part of a dense concentration of Roman boundary/enclosure ditches. In addition, several large probable extraction pits were revealed in the centre of the excavation area. The western half of the excavation area also contained several pits containing pottery, oyster shell and animal bone, the heavily truncated remains of a ring gully, and a corn dryer filled with a substantial quantity of charred grain - all suggestive of domestic activity. Finds of note included a fragment of stamped mortarium dating to the late 2nd century AD, and a bone handled knife. The pottery assemblage, coupled with stratigraphic analysis, suggest that activity here is likely to have begun in the late 1st of 2nd century AD and to have reached a peak in the 3rd and 4th centuries AD. Finds of Roman date made over an extensive area adjacent to the site suggest it formed part of a larger area of settlement/activity, probably closely associated with the Peddars Way Roman Road.
Some evidence for earlier, prehistoric activity was also recovered during the excavation in the form a small pit associated with Beaker pottery and residual Neolithic and Early Bronze Age pottery.
Elsewhere along the pipeline route, few significant archaeological remains were encountered. Monitoring was carried out of the pipeline construction along the projected line of Peddars Way but no traces of the road were visible. A final phase of monitoring was also carried out in the last open cut area of the pipeline (Area E), where a small section of a ditch containing Roman pottery was recorded.
Item Type:
Client Report
Uncontrolled Keywords:
Excavation, excavation, archaeological excavation, evaluation, Evaluation, archaeological evaluation, Norfolk, norfolk, Ringstead, ringstead, Sedgeford, sedgeford, Docking, docking, Pipeline, pipeline, Pipe Line, pipe line, Roman, roman, Bronze Age, bronze age, Peddars Way, peddars way, pottery, Pottery, Roman pottery, roman pottery, Bronze Age pottery, bronze age pottery, beaker, Beaker, beaker pottery, Beaker pottery, pot, ceramic, sherd, residual, residual finds, neolithic, Neolithic, residual neolithic, residual neolithic pottery, knife, bone, worked bone, bone handle, bone handled, bone handled knife, mortaria, mortarium, stamped mortarium, ditch, ditches, boundary, enclosure, boundary ditch, enclosure ditch, agriculture, farming, land division, pit, pits, extractive pit, extractive pits, animal bone, animal bones, animal remains, bone, bones, shell, shells, oyster, oyster shell, oyster shells, gully, ring gully, corn dryer, charred grain, grain, CPR, cpr, charred plant remains, Charred Plant Remains, domestic, domestic activity, domestic activities, settlement, 2275, report 2275, Report 2275, OAE report 2275
Subjects:
Geographical Areas > English Counties > Norfolk
Period > UK Periods > Bronze Age 2500 - 700 BC
Period > UK Periods > Roman 43 - 410 AD
Divisions:
Oxford Archaeology East
Depositing User:

Hamilton

Date Deposited:
22 Oct 2019 12:13
Last Modified:
22 Oct 2019 12:13
URI:
http://eprints.oxfordarchaeology.com/id/eprint/5121
Actions (login required)