Tonks, David (2005) Hornby Village Institute, Hornby, Lancashire. Archaeological Watching Brief. [Client Report] (Unpublished)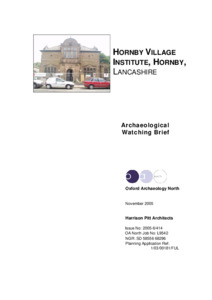 Preview
PDF




completereport.pdf


Download (5MB) | Preview
Abstract
A watching brief was undertaken by Oxford Archaeology North in June and July 2005 at the Hornby Village Institute, Hornby, Lancashire (centred on SD 58556 68296). Harrison Pitt Architects propose to redevelop and extend the present
building, which lies within an area of recognised archaeological potential. Following a request for a watching brief by Lancashire Council Archaeological Service, Oxford
Archaeology North were commissioned to undertake the programme of observation during the associated groundworks.
In total, seventeen foundation trenches and an elevator shaft pit were excavated and an area to the south of the existing building, previously a raised garden, was graded
down to a pre-determined level. Three features and two archaeological horizons were observed and recorded. The footing for a possible garden wall was observed in
Trenches 4 and 8, and a spread of cobbles, possibly a soakaway feature associated with a garden, was observed in Trench 4. These are both thought to be post-medieval.
A subsoil, 101, was further observed in the elevator shaft pit from which medieval pottery was recovered. This was interpreted as a medieval ploughsoil, probably the
remnants of activity within a former east/west aligned burgage plot fronting onto the modern high street. Beneath this ploughsoil and cut into the natural was also observed
a small, shallow pit, 100, which was medieval in date. This was interpreted as most likely a pit for the disposal of bio-degradable refuse.
In the garden area to the south of the existing building, another subsoil horizon, 104, was encountered from which pottery sherds and kaolin clay pipe fragments were
recovered. These dated from the twelfth through to the eighteenth and nineteenth centuries, demonstrating continuity of use from the early middle ages through to the
time the present building was erected in the Victorian era, a potential span of up to seven hundred years.
.
Actions (login required)