Thatcher, Chris (2017) Medieval and Post-Medieval Activity at Sun Street (64 Newmarket Road), Cambridge: PXA and UPD. [Client Report] (Unpublished)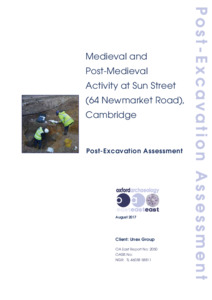 Preview
PDF




Report 2050_LR.pdf


Available under License Creative Commons Attribution Share Alike.
Download (1MB) | Preview
Abstract
During November 2016 Oxford Archaeology East carried out an archaeological excavation at Sun Street (No. 64 Newmarket Road) Cambridge within an area proposed for redevelopment as mixed residential and commercial space. Although modern disturbance (including a petrol tank) and truncation was evident in places, the 160m2 excavation uncovered sporadic evidence for medieval and post-medieval back plot activity spanning the 14th to late 19th centuries.
The activity was characterised by a series of (clay) quarries and pits of various sizes, along with 18th-19th century brick foundations and a well. The scatter of medieval pits produced small quantities of finds and appear to have been left open, given the presence of waterlogged plant remains including pond weed and algae in samples taken from their fills. Most of the brick foundations and related deposits were probably associated with a public house that once fronted onto Sun Street to the north, and its subsequent demolition. The cellar of this property presumably destroyed any evidence of earlier activity in this area. The upper part of the well located to the immediate south was infilled with pottery and other domestic rubbish including numerous glass bottles a large quantity of Collegiate Ware similar to that found at other sites investigated in this part of Cambridge. Further to the south was a possible chimney base and various robbed-out foundations that probably relate to other buildings that were once located on this plot.
Although the associated finds and environmental assemblages have low research value (other than site-specific issues), the potential of this small excavation perhaps lies in its contribution to other more extensive investigations into the medieval and later development of the Newmarket Road / Barnwell area of Cambridge.
Item Type:
Client Report
Uncontrolled Keywords:
Excavation, excavation, archaeological excavation, Cambridgeshire, cambridgeshire, Cambridge, cambridge, Sun Street, sun street, Newmarket Road, newmarket road, Medieval, medieval, post-medieval, Post-Medieval, post medieval, Post Medieval, pottery, Medieval pottery, medieval pottery, post-medieval pottery, Post-Medieval pottery, post medieval pottery, Post Medieval pottery, Early Medieval pottery, early medieval pottery, pot, sherd, ceramic, Bone Chine, bone china, stoneware, Stoneware, Pearlware, pearlware, East Anglian Redware, east anglian redware, Refined White Earthenware, refined white earthenware, jar, jug, bowl, drinking vessel, ink bottle, lid, saucer, dish, chamberpot, colander, collegiate, collegiate ware, collegiate wares, plate, CBM, cbm, Ceramic Building Material, ceramic building material, Brick, brick, glass, bottle, bottle glass, glass sherd, ceramic sherd, pottery sherd, sherd, sherds, animal bone, animal bones, animal remains, bone, bones, Hamilton-type bottle, wine bottle, clunch, dressed stone, CTP, ctp, clay tobacco pipe, Clay Tobacco Pipe, clay pipe, pit, pits, post hole, posthole, foundations, building, structure, pub, public house, well, chimney, chimney base, ditch, trench, foundation trench, PXA, pxa, UPD, upd, Update Project Design, updated project design, Post-Excavation Assessment, post-excavation assessment, 2050, report 2050, Report 2050, OAE report 2050
Subjects:
Geographical Areas > English Counties > Cambridgeshire
Period > UK Periods > Medieval 1066 - 1540 AD
Period > UK Periods > Post Medieval 1540 - 1901 AD
Divisions:
Oxford Archaeology East
Depositing User:

Hamilton

Date Deposited:
09 Aug 2019 13:01
Last Modified:
09 Aug 2019 13:01
URI:
http://eprints.oxfordarchaeology.com/id/eprint/5135
Actions (login required)