Kemp, S. N. (1998) Archaeology along the Cambourn Gas Main Pipeline. [Client Report] (Unpublished)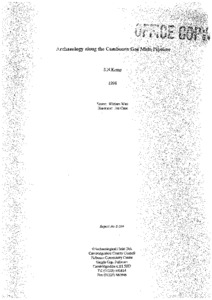 Preview
PDF




CCCAFU_reportB34.pdf


Available under License Creative Commons Attribution Share Alike.
Download (887kB) | Preview
Abstract
Archaeological investigations along the course of the Cambourn Gas Main were undertaken by the Archaeological Field Unit of Cambridgeshire County Council between the 1st and 10th June 1998. The work was undertaken for Gas Technology Limited and involved three site visits.
The gas pipeline is 7km long and runs through the parishes of Connington, Elsworth and Knapwell from Friesland Farm on the A14 to the A428 (Figure 1). An easement of the 3-4km wide was prepared along the full length of the pipeline in advance of pipelaying which was to be undertaken with a ditch and dig machine. A 0.30m wide pipe trench was excavated during pipelaying, but due to the proposed pipelaying methodology, this was not monitored.
Only two sherds of post-medieval pottery were recovered along the 7km long pipeline. The scarcity of finds means that no further investigation was appropriate.
The absence of archaeological features and early finds is not surprising given the few remains known along the routeway. In addition the routeway runs at some distance from the Saxon and medieval settlements known in the area, whilst the majority of prehistoric settlement sites in this area can be found along the river gravels. It is therefore probable that these fields when used during prehistoric times, were utilised for activities which leave few archaeological traces, whilst the cropmarks indicate that during the medieval period they formed part of extensive field systems.
Item Type:
Client Report
Uncontrolled Keywords:
Cambourn, cambourn, Cambridgeshire, cambridgeshire, pottery, Pottery, Post-Medieval, post-medieval, Post Medieval, post medieval, pipeline, Pipeline, Conington, conington, Elsworth, elsworth, Knapwell, knapwell, field system, agriculture, Post-Medieval pottery, post-medieval pottery, Post Medieval pottery, post medieval pottery, B34, b34, report b34, Report b34, report B34, Report B34, CCCAFU report B34
Subjects:
Geographical Areas > English Counties > Cambridgeshire
Period > None
Depositing User:

Archives

Date Deposited:
26 Mar 2020 10:36
Last Modified:
26 Mar 2020 10:36
URI:
http://eprints.oxfordarchaeology.com/id/eprint/5144
Actions (login required)