Way, Twigs (1998) Archaeology at The Hall, Burrough Green. [Client Report] (Unpublished)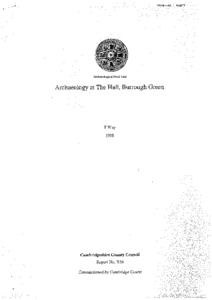 Preview
PDF




CCCAFU_reportB36.pdf


Available under License Creative Commons Attribution Share Alike.
Download (1MB) | Preview
Abstract
An archaeological watching brief was undertaken at The Hall, Burrough Green (TL 635556) by the Archaeological Field Unit of Cambridgeshire County Council on the 14th of September 1998. The work was undertaken for Cambridgeshire Courts and involved a single site visit.
The proposed development compromised the construction of a tennis court 34.77m x 16.47m (with associated easement of c.2m), adjacent to The Hall. The construction necessitated turf stripping and plant excavation to a depth of 0.15m.
The absence of any pre-19th century features appears consistent with the use of the site as pasture/lawn during the post medieval period. No features associated with 'garden archaeology' were recovered. Relic ridge and furrow in the surrounding area may suggest that at some time prior to the 16th century the area in the immediate vicinity of the site formed part of a cultivated area, however no indications of relict ridge and furrow were found at subsoil level within the immediate area of excavation.
Although no pre 19th century features were recovered within the limited depth of excavation undertaken in connection with the present development it should be noted that this does not preclude the possibility that archaeological remains predating the medieval period might exist on the sire at a greater depth
Item Type:
Client Report
Uncontrolled Keywords:
Watching Brief, watching brief, The Hall, the hall, Burrough Green, burrough green, Cambridgeshire, cambridgeshire, ridge and furrow, furrow, garden, B36, b36, report b36, report B36, Report b36, Report B36, CCCAFU report B36
Subjects:
Geographical Areas > English Counties > Cambridgeshire
Period > None
Depositing User:

Archives

Date Deposited:
24 Feb 2020 08:32
Last Modified:
24 Feb 2020 08:32
URI:
http://eprints.oxfordarchaeology.com/id/eprint/5146
Actions (login required)