Kemp, S. N. (1998) Archaeology at Hinchingbrooke School, Huntingdon. [Client Report] (Unpublished)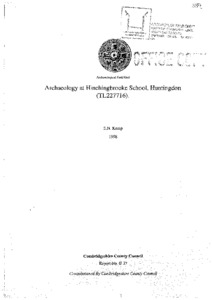 Preview
PDF




CCCAFU_reportB37.pdf


Available under License Creative Commons Attribution Share Alike.
Download (1MB) | Preview
Abstract
Following the discovery of wall foundations during constructions works at Hinchingbrooke School the Archaeological Field Unit of Cambridgeshire County Council was contracted to undertake a watching brief within the development. The main requirement of this work was to record a single wall which lay on the southeastern side of the proposed Pepys building and a brick culvert within the courtyard adjacent to Hinchingbrooke House.
A small evaluation had been carried out within the limits of the proposed Pepys building and no archaeology had been found (Hatton 1998). However, when the area was entirely opened the foundations of a brick wall was found to run along the southeastern boundary of the site within a strip of land proposed for a retaining wall. The remains of the wall ran almost parallel with the existing yew hedge and was probably one of the earlier garden features associated with Hinchingbrooke House. The site was visited twice, on the 10th and 11th of June 1998, in order to undertaken basic recordings of the nature and alignment of the wall.
The location and form of the wall suggests that it is the remnants of a garden wall. The absence of any specific dating material other than reused limestone and brick means that it is difficult to provide details about the landscape context of the wall without detailed cartographic and historical research. The now mature yew hedge follows the same orientation and is probably a direct replacement of this earlier wall or of an alignment preserved in the earthworks. It is possible that the wall was removed at a time when the formal gardens around the house gave way to the existing landscape design which may have occurred in the eighteenth century. The early historical documents for the house and estate held by the British Museum and Huntingdon Record office may clarify this issue.
Item Type:
Client Report
Uncontrolled Keywords:
Hinchingbrooke School, Hinchingbrooke school, hinchingbrooke, Hinchingbrooke, Huntingdon, huntingdon, Cambridgeshire, cambridgeshire, Benedictine, benedictine, Benedictine Nunnery, benedictine nunnery, watching brief, Watching Brief, wall, foundation, foundations, post medieval, Post Medieval, Post-Medieval, post-medieval, 18th, 18th century, garden, garden wall, yew hedge, B37, b37, report b37, report B37, Report b37, Report B37, CCCAFU report B37, culvert, drain, brick, brick lined, brick-lined
Subjects:
Geographical Areas > English Counties > Cambridgeshire
Period > UK Periods > Post Medieval 1540 - 1901 AD
Depositing User:

Archives

Date Deposited:
24 Feb 2020 08:24
Last Modified:
24 Feb 2020 08:29
URI:
http://eprints.oxfordarchaeology.com/id/eprint/5147
Actions (login required)