Way, Twigs (1998) Houghton Mill, Houghton and Wyton, Cambridgeshire: An Archaeological Watching Brief. [Client Report] (Unpublished)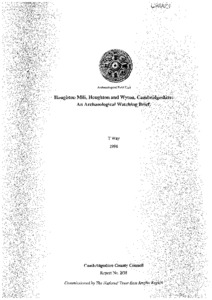 Preview
PDF




CCCAFU_reportB38.pdf


Available under License Creative Commons Attribution Share Alike.
Download (2MB) | Preview
Abstract
An archaeological watching brief was undertaken at Houghton Mill, Houghton and Wyton (TL 282 719) by the Archaeological Field Unit of Cambridgeshire County Council between the 5th and the 8th of September 1998. The work was undertaken for The National Trust, East Anglia Region, and involved two site visits.
The proposed development compromised the construction of a new flood alleviation channel and turbine pond close to the Mill itself which construction involved site clearance, topsoil stripping and some excavation work to a maximum depth of c.2.5m below the present water level, or about 3m below present ground level.
Following the removal of modern overburden and disturbed upper deposits, excavation revealed 19th century structural elements relating to the restoration and rebuilding of the mill at that date. These elements included foundations, walls, and supporting block for the mill wheel to the immediate north of the mill leat.
These 19th century works resulted in the truncation of any deposits and structure relating to earlier phases of mill construction to beyond the depth of the present excavations.
Although no pre-19th century features were recovered with the area of the present development it should be noted that this does not preclude the possibility of archaeological remains relating to earlier phases of mill construction existing beyond the present area of development.
Item Type:
Client Report
Uncontrolled Keywords:
Houghton Mill, houghton mill, Mill, mill, Houghton and Wyton, houghton and wyton, Cambridgeshire, cambridgeshire, Watching Brief, watching brief, Restoration, restoration, rebuilding, Rebuilding, National Trust, national trust, Houghton, houghton, foundation, foundations, wall, walls, mill wheel, block, supporting block, 19th century, truncation, B38, b38, report b38, report 38, Report b38, Report B38, CCCAFU report B38
Subjects:
Geographical Areas > English Counties > Cambridgeshire
Period > UK Periods > Post Medieval 1540 - 1901 AD
Depositing User:

Archives

Date Deposited:
26 Mar 2020 10:53
Last Modified:
26 Mar 2020 10:53
URI:
http://eprints.oxfordarchaeology.com/id/eprint/5148
Actions (login required)