Hatton, A. (1998) St Andrew's Church, Soham: An Archaeological Evaluation. [Client Report] (Unpublished)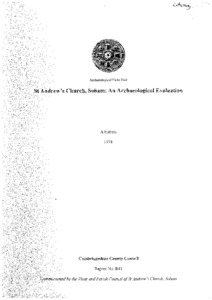 Preview
PDF




CCCAFU_reportB41.pdf


Available under License Creative Commons Attribution Share Alike.
Download (1MB) | Preview
Abstract
During November 1998, the Archaeological Field Unit of Cambridgeshire County Council carried out and archaeological evaluation on behalf of the Vicar and Parish Council of St Andrew's Church, Soham (TL 5930 7317) in advance of the construction of a new church hall.
A trench located almost immediately outside the south porch of the church revealed a large amount of disarticulated human bone together with coffin handles and nails. A single burial was encountered at a depth of 0.6m below the present ground surface, but was not removed. No finds were noted with it, and the burial is thought to be post-medieval or later. No evidence was found to confirm the existence of an earlier religious building and associated cemetery which is traditionally thought to have been located within the churchyard. There was likewise no evidence of the pagan Saxon cemetery which is also traditionally located on or near the site.
The lack of archaeological evidence is probably due to the restricted depth of the excavation 0.75m, which was conditioned by the depth of disturbance likely to be caused by the development. Alternatively, the lack of evidence may be due to a genuine absence of earlier remains within the development area.
Item Type:
Client Report
Uncontrolled Keywords:
Cambridgeshire, cambridgeshire, St Andrew's Church, st andrew's church, soham, Soham, post-medieval, Post-Medieval, post medieval, Post-Medieval, burial, Burial, coffin, coffin fitting, coffin fittings, nail, nails, human remains, HSR, hsr, disartic, disarticulated, disarticulated human remains, skeleton, bone, bones, inhumation, evaluation, Evaluation, archaeological evaluation, graveyard, burial ground, church, church hall, B41, b41, report b41, report B41, Report b41, Report B4, CCCAFU report B41
Subjects:
Geographical Areas > English Counties > Cambridgeshire
Period > UK Periods > Post Medieval 1540 - 1901 AD
Depositing User:

Archives

Date Deposited:
26 Mar 2020 15:11
Last Modified:
26 Mar 2020 15:11
URI:
http://eprints.oxfordarchaeology.com/id/eprint/5151
Actions (login required)