Hatton, A. (1999) Eames Garden Centre, Eye Road, Peterborough: An Archaeological Evaluation. [Client Report] (Unpublished)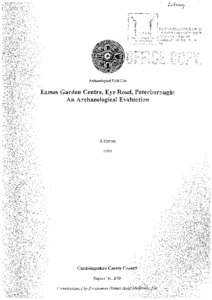 Preview
PDF




CCCAFU_reportB49.pdf


Available under License Creative Commons Attribution Share Alike.
Download (2MB) | Preview
Abstract
During December 1998 and February 1999 an archaeological evaluation was undertaken at Eames Garden Centre, Eye Road, Peterborough (TF 2120 0081) by Cambridgeshire County Council Archaeology Field Unit in advance of a residential development. A desktop study carried out before the fieldwork drew attention to the site's high archaeological potential, and highlighted the fact that the presumed course of the Roman Car Dyke lay along its western boundary. It was considered possible that the site might contain either a segment of Car Dyke itself, or possibly evidence of canal-side activities connected with it.
In spite of this, the evaluation uncovered only minimal remains. A stone-lined kiln or oven and an oval pit of uncertain function were found but neither contained any dating evidence. A sewer trench dug across Eye Road was monitored but did not reveal any traces of Car Dyke, although there was a lot of disturbance from previous service trenches.
The paucity of remains uncovered, however, was probably not due to an absence of activity in the past but, more likely, to the high degree of disturbance caused by previous construction work undertaken on the site in the recent past.
Item Type:
Client Report
Uncontrolled Keywords:
Peterborough, peterborough, Eames Garden Centre, eames garden centre, Evaluation, evaluation, Roman Car Dyke, roman car dyke, Car Dyke, car dyke, B49, b49, Report B49, Report b49, report B49, report b49, CCCAFU report B49, kiln, oven, stone lined, stone built
Subjects:
Geographical Areas > English Counties > Cambridgeshire
Period > UK Periods > Roman 43 - 410 AD
Depositing User:

Archives

Date Deposited:
10 Feb 2020 11:38
Last Modified:
10 Feb 2020 11:38
URI:
http://eprints.oxfordarchaeology.com/id/eprint/5159
Actions (login required)