Taylor, Karl (2006) Former BBC Studios Woodhouse Lane, Leeds. Archaeological Building Investigation. Project Report. Oxford Archaeology North. (Unpublished)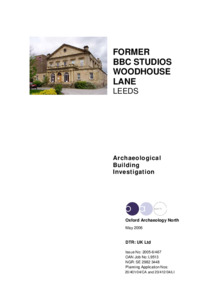 Preview
PDF




completereport.pdf


Download (15MB) | Preview
Abstract
Following a planning application (Nos 20/401/04/CA and 20/412/04/LI) to Leeds City Council to demolish the former BBC Television Centre and reuse and alter the Grade
II Listed Broadcasting House (a former Quaker Meeting House), Oxford Archaeology North (OA North) was commissioned by DTR:UK Ltd, acting on behalf of GMD Developments Ltd, to undertake a building investigation in March 2005. Conditional planning consent was granted pending the completion of the programme of archaeological building investigations. West Yorkshire Archaeology Advisory
Service (WYAAS), in their capacity as Leeds City Council's archaeological advisors, provided a specification in order to allow the developer to meet the terms of the
planning condition (Appendix 1).
An outline of the history of the site was carried out by Mr John Trenouth, Head of Television at the National Museum of Photography, Film and Television in Bradford. This (together with information supplied by the BBC) revealed that the Quaker Meeting House with schoolrooms was opened on the site in 1868 and, following its closure in 1921, was acquired by the BBC in 1933. Broadcasting House (as it was then known) was then converted by the BBC into radio studios, which culminated in its conversion to accommodate Radio Leeds in 1973.
In 1968, the first television studios were set up in Blackman Lane, to be followed soon after by the construction of the Television Centre (adjacent to Broadcasting House), which opened in 1974. This was on the site previously occupied by the workshops of Louis Le Prince who, in 1888, filmed a moving picture sequence on Leeds Bridge. The studios were used to broadcast regional television programmes such as 'Look North'. In 2004 a new studio complex was opened in Quarry Hill, Leeds, and the Woodhouse Lane site was closed.
Actions (login required)