Clarke, Steve (2005) Area 13 (Waterside), The Channel Side Area, Barrow-In-Furness. Archaeological Watching Brief. Project Report. Oxford Archaeology North. (Unpublished)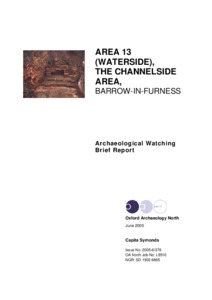 Preview
PDF




completereport.pdf


Download (3MB) | Preview
Abstract
Oxford Archaeology North was commissioned by Capita Symonds to carry out an archaeological watching brief on an area of land being cleared for future development. Barrow Borough Council and Cumbria County Council are acting in partnership to redevelop the Channelside area of Barrow-in-Furness; the site, Area 13 (Waterside), The Channelside Area, is one of 13 discrete areas within this development. Area 13 is
on the east bank of the Walney Channel, south of the Jubilee Bridge (centred on SD 1903 6865). The watching brief monitored the removal of the surface and sub-surface
concrete from the area, which is to be subsequently replaced by hardstanding. The watching brief was undertaken intermittently between 17th March and 1st April 2005,
as and when the concrete was being removed.
A large number of very substantial concrete blocks were removed. These represent the foundations of a large industrial building, connected to the docks, that documentary evidence shows was built between 1911 and 1933 and demolished in 2000. Four concrete-lined pits associated with this building were found, one of which contained
plinths. The exact purpose of the pits is unknown, but will have been related to largescale industrial manufacture. On the east side of the site there were two brick-built
structures that were very probably also part of this building.
Actions (login required)