Bashford, Robin 7-11 St John Street Oxford. [Client Report] (Unpublished)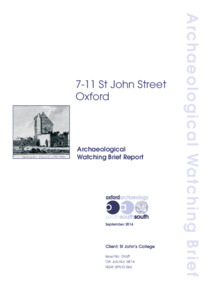 Preview
PDF




OXSTJO14.pdf


Download (6MB) | Preview
Abstract
Between July and August 2014, Oxford Archaeology (OA) undertook an
archaeological watching brief at 7-11 St John Street, Oxford (SP 510 066). The
watching brief revealed the sand and gravel of the second (Summertown-Radley)
gravel terrace which was overlain by a post-glacial loessic subsoil. The subsoil and
gravel had been truncated by a steep-sided feature which was only partially
revealed within the trench for a new light-well to the rear of number 11. The
composition of the fill was predominantly re-deposited loess, which is characteristic
of pre-historic and late Saxon features excavated elsewhere within the city. A
number of Bronze Age ring ditches have been excavated in the immediate vicinity of
the site, and it is feasible that this feature represents one such. However, no dating
evidence was recovered and the shape of the feature in plan was uncertain.
Additionally, a possible pit – also undated – was revealed within the same trench.
The loess and the fills of the features were overlain by a homogeneous, humic
deposit which is likely to represent a buried topsoil. This deposit and the fill of the
steep-sided feature had been truncated by a stone-lined, square-cut pit, the fills of
which produced a large quantity of mid-late 19thcentury artefactual material. It is
likely that this represents a stone-lined cess pit to the rear of number 11, which was
backfilled in the 1870s following the introduction of mains sewerage into the city.
Actions (login required)