Hinman, Mark (2002) Archaeological Work on Land off Howlett Way, Thetford 37306 THD. [Client Report] (Unpublished)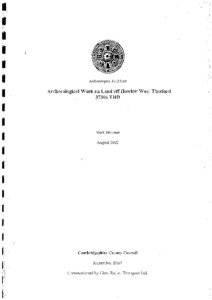 Preview
PDF




CCCAFU_reportB107.pdf


Available under License Creative Commons Attribution Share Alike.
Download (501kB) | Preview
Abstract
During the construction of hardstanding on land adjacent to Howlett Way, Thetford, topsoil was removed from the site and stored in two separate locations. Due to the sensitive location of the site in relation to previously known archaeological remains a condition requiring archaeological investigation was placed on the planning consent for the development.
The main aim of the project was to maximise the recovery of artefactual materials contained within the excavated spoil heaps and to attempt a reconstruction of the history and use of the site with reference to these materials. During August 2002 Mark Hinman and Chris Montague conducted an intensive scan of the spoil by hand and with metal detectors, aided by mechanical excavator.
No significant artefactual materials were recovered.
Item Type:
Client Report
Uncontrolled Keywords:
Norfolk, norfolk, Thetford, thetford, Howlett Way, howlett way, B107, b107, Neolithic, neolithic, flakes, lithics, flint, worked flint, lithic, lithic implement, Report b107, report b107, Report B107, report B107, CCCAFU report B107. Watching Brief, watching brief, artefact recovery, metal detecting
Subjects:
Geographical Areas > English Counties > Norfolk
Period > UK Periods > Neolithic 4000 - 2200 BC
Depositing User:

Archives

Date Deposited:
29 Apr 2020 11:39
Last Modified:
29 Apr 2020 11:39
URI:
http://eprints.oxfordarchaeology.com/id/eprint/5237
Actions (login required)