Bailey, Glenn (2003) Alderman Jacobs Primary School, Whittlesey: An Archaeological Evaluation. [Client Report] (Unpublished)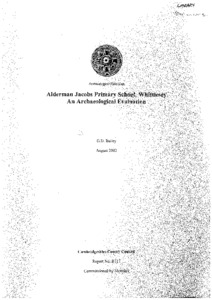 Preview
PDF




CCCAFU Report B117.pdf


Available under License Creative Commons Attribution Share Alike.
Download (1MB) | Preview
Abstract
The Archaeological Field Unit of Cambridgeshire County Council undertook an archaeological evaluation of land (TL 2767 9758) to the rear of Alderman Jacobs Primary School on 22nd August 2013. The work was commissioned by Mouchel Property Services on behalf of Cambridgeshire County Council in advance of a school extensions development.
The proximity of the site to the route of the Roman Fen Causeway lent potential to the deposits being part of the causeway or an offshoot to possible roadside development. The evaluation revealed that the area of proposed development had been subject to extensive modern disturbance. The natural gravels being exposed at depths of 0.60m to 1.06m.
The stratigraphic relationship of a limestone layer to modern service trenches confirms that it post-dates them and therefore cannot be part of any Roman roadside development. In conclusion it appears that the deposits present in the trench excavated were of no archaeological significance, being a product of modern disturbance.
Item Type:
Client Report
Uncontrolled Keywords:
Cambridgeshire, cambridgeshire, Whittlesey, whittlesey, Roman Fen Causeway, roman, fen causeway, fen, Roman, modern, Modern, B117, b117, report b117, report B117, Report b117, Report B117, CCCAFU B117
Subjects:
Geographical Areas > English Counties > Cambridgeshire
Period > UK Periods > Modern 1901 - present
Depositing User:

Archives

Date Deposited:
17 Apr 2020 09:59
Last Modified:
17 Apr 2020 09:59
URI:
http://eprints.oxfordarchaeology.com/id/eprint/5248
Actions (login required)