Bailey, Glenn (2003) 76 High Street, Willingham: An Archaeological Evaluation. [Client Report] (Unpublished)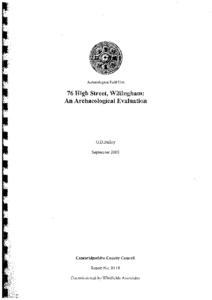 Preview
PDF




CCCAFU Report B118.pdf


Available under License Creative Commons Attribution Share Alike.
Download (1MB) | Preview
Abstract
On the 27th and 29th October 2003 an archaeological evaluation was undertaken on land to the southwest of 76 High Street, Willingham, Cambridgeshire (TL 4016 7005) by staff of the Archaeological Field Unit of Cambridgeshire County Council.
The site had good potential for Saxon and medieval remains due to its location adjacent to the junction of the Willingham High Street and Over Road. No recognisable archaeological features were observed, although three sherds of early post-medieval pottery, a horse jaw and 3 late medieval horseshoes were found in make-up deposits.
Sealed beneath a 0.6m thick layer of modern overburden were layers of silt. The earliest feature was a possible palaeochannel, an ancient watercourse, which may have been responsible for the build up of subsequent layers of these silts as flood material.
Pottery recovered from the evaluation was dated as from the 16th century and later. The horseshoes also recovered were dated as late 15th and 16th century. This implies that the soils containing most of these artefacts were deposited within a century of one another.
Item Type:
Client Report
Uncontrolled Keywords:
Cambridgeshire, cambridgeshire, Willingham, willingham, palaeochannel, river channel, ancient watercourse, modern, post-medieval, Modern, Post-Medieval, post medieval, Post Medieval, 19th century, Century, nineteenth, horse bones, horse, bones, bone, animal bone, animal bones, animal remains, horseshoe, silt, fluvium, fluvial deposits, pottery, Pottery, post-medieval pottery, Post-Medieval pottery, post medieval pottery, Post Medieval pottery, pot, ceramic, sherd, overburden, B118, b118, report b118, report B118, Report b118, Report B118, CCCAFU report B118
Subjects:
Geographical Areas > English Counties > Cambridgeshire
Period > UK Periods > Post Medieval 1540 - 1901 AD
Depositing User:

Archives

Date Deposited:
24 Jan 2020 14:18
Last Modified:
24 Jan 2020 14:18
URI:
http://eprints.oxfordarchaeology.com/id/eprint/5249
Actions (login required)