Witkin, Annsofie and Hiller, Jon (2002) Church of St. Nicholas, Rotherford Greys, Henley-on-Thames, Oxfordshire. Project Report. Oxford Archaeological Unit Ltd. (Unpublished)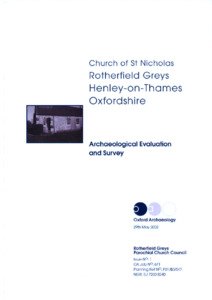 Preview
PDF




RGSN02.pdfA.pdf


Download (4MB) | Preview
Abstract
In December 2001 & May 2002, Oxford Archaeology (OA) undertook a range of survey work at the Church of St Nicholas, Rotherford Greys near Henley-on-Thames, Oxon (NGR SU 72708240) on behalf of the Parochial Church Council. A new building extension is proposed in the graveyard south of the church, and the survey was commissioned to investigate the archaeological impact of the proposed building on the historic fabric of the church and its grounds.
The wall survey revealed that the west wall of the church was entirely of small to medium flintwork in a consistently irregular pattern, of 19th century date, with a clear building line marking the change of build where the church was extended in 1865. The survey of the graveyard provided a digital plot of the layout of the churchyard to the south of the church.
the three trial trenches contained evidence for graves and/or human remains. Burials in two of the trenches were undated, while coffin fittings from a grave fill in the third trench suggests that the graves are of late 18th / early 19th century date but possibly later. A long mound on the south side of the church is interpreted as a raised area of the graveyard, possibly truncated and leveled when the church was extended to the west.
Actions (login required)