Oakey, N. (1995) An Archaeological Evaluation at West Acre Priory, Norfolk. [Client Report] (Unpublished)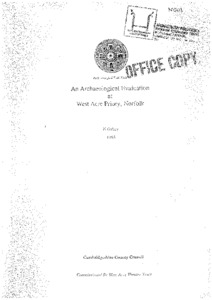 Preview
PDF




CCCAFU_report N01.pdf


Available under License Creative Commons Attribution Share Alike.
Download (2MB) | Preview
Abstract
In November 1995 the Archaeological Field Unit of Cambridgeshire County Council, acting as sub-contractors for Norfolk Archaeological Unit, carried out an archaeological evaluation at West Acre Priory, Norfolk (TF 7830/1504). This was commissioned by West Acre Theatre Trust as the basis of a class consent application for proposed works within the area of the Scheduled Ancient Monument (SAM 21325).
Seven sample trenches produced no evidence for human activity on the site before the foundation of the priory in the early 12th century.
One trench (A) confirmed the survival of the foundations of a medieval building extending northwards for 25m from the standing medieval barn, but in all other trenches any layers associated with the priory had not survived later truncation. A shallow layer of demolition debris was seen south-east of the monastic barn and may be derived from other monastic buildings.
Item Type:
Client Report
Uncontrolled Keywords:
Evaluation, evaluation, archaeological evaluation, Norfolk, norfolk, West Acre Priory, west acre priory, West Arce, west acre, stone building, Priory, priory, monastic, barn, monastic barn, medieval, Medieval, post-medieval, Post-Medieval, Post medieval, post medieval, mound, platform, n1, N1, n01, N01, n001, N001, Report n01, report n01, report N01, Report N01, CCCAFU report N01, building, structure, wall, foundation, foundations, demolition, debris, demolition layer, SAM, sam, SM, sm, Scheduled Ancient Monument, scheduled ancient monument, Scheduled Monument, scheduled monument, SAM 21325, sam 21325, SM 21325, sm 21325, SAM21325, sam21325, SM21325, sm21325, 12th century, animal remains, animal bones, animal bone, bones, bone
Subjects:
Geographical Areas > English Counties > Norfolk
Period > UK Periods > Medieval 1066 - 1540 AD
Period > UK Periods > Post Medieval 1540 - 1901 AD
Depositing User:

Archives

Date Deposited:
17 Apr 2020 10:11
Last Modified:
17 Apr 2020 10:13
URI:
http://eprints.oxfordarchaeology.com/id/eprint/5253
Actions (login required)