Oakey, N. (1995) An Archaeological Evaluation at Coslany Street, Norwich. [Client Report] (Unpublished)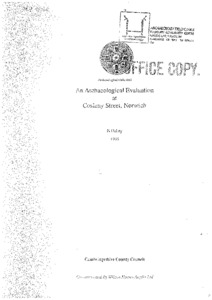 Preview
PDF




CCCAFU_report N02.pdf


Available under License Creative Commons Attribution Share Alike.
Download (2MB) | Preview
Abstract
In June 1995 the Archaeological Field Unit of Cambridgeshire County Council, acting as sub-contractors for Norfolk Archaeological Unit, carried out an archaeological evaluation at Coslany Street, Norwich (TG 2278/0893). This was done on behalf of Wilcon Homes Anglia Ltd prior to a proposed residential development.
A sample trench established that intact 18th century archaeological stratigraphy survived near the west frontage of Coslany Street at a depth of less than 0.7m. Background research indicates that these floors were located within buildings of late-medieval or early post-medieval date.
A further trench nearer to the existing northern bank of the Wensum uncovered a canalised channel which had been partially culverted. This was interpreted as a northern arm of the river which flowed around an island north-west of St Miles Bridge and is depicted on maps of the early 19th century and before. Investigation revealed that the channel had probably been established and revetted in the late medieval or early post-medieval period (15th-16th century.)
Organic survival was good in medieval deposits and evidence of local industry was recovered.
Item Type:
Client Report
Uncontrolled Keywords:
Norfolk, norfolk, Norwich, norwich, N02, n02, N002, n002, n2, N2, 18th, century, Century, eighteenth, Eighteenth, late-medieval, Late-Medieval, post-medieval, Post-Medieval, post medieval, post-medieval, medieval, Medieval, canal, 15th, 16th, fifteenth, sixteenth, floor, floors, floor surface, building, structure, frontage, Wensum, wensum, River Wensum, river wensum, river, channel, culvert, culverted, culverted channel, CBM, cbm, ceramic building material, Ceramic Building Material, tile, floor tile, brick, brick wall, wall, foundation, sill wall, pottery, Pottery, pot, ceramic, sherd, vessel, post-medieval pottery, Post-Medieval pottery, post medieval pottery, post-medieval pottery, medieval pottery, Medieval pottery, animal remains, animal bones, animal bone, bones, bone, bank, river bank, N2, n2, report n2, report N2, Report n2, Report N2, CCCAFU report N2
Subjects:
Geographical Areas > English Counties > Norfolk
Period > UK Periods > Medieval 1066 - 1540 AD
Period > UK Periods > Post Medieval 1540 - 1901 AD
Depositing User:

Archives

Date Deposited:
17 Apr 2020 10:40
Last Modified:
23 Sep 2020 11:18
URI:
http://eprints.oxfordarchaeology.com/id/eprint/5254
Actions (login required)