Leith, S. and Oakey, N. (1997) Excavation of Early Medieval Settlement Remains: An Archaeological Investigation of the Wereham Sewerage Scheme, Norfolk. [Client Report] (Unpublished)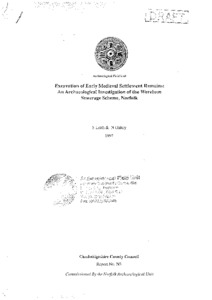 Preview
PDF




CCCAFU_report N03.pdf


Available under License Creative Commons Attribution Share Alike.
Download (3MB) | Preview
Abstract
From December 1995 to May 1996, the Archaeological Field Unit of Cambridgeshire County Council carried out archaeological recording along the route of the Wereham Sewerage Scheme. The work was undertaken on behalf of the Norfolk Archaeological Unit, for Anglian Water.
Excavation of the pipeline easement adjacent to a medieval moated site (SM 13294, TF 687 006) revealed early medieval settlement remains. This was represented by a series of boundary ditches, several pits, and part of a post-built structure. These features, and an associated occupation layer, produced an assemblage of pottery which has been dated to the twelfth century.
Field-walking and observation of the stripped easement revealed mostly modern features and artefacts. The exception was the field immediately to the west of the moated site, where early medieval pottery was recovered.
Item Type:
Client Report
Uncontrolled Keywords:
Norfolk, norfolk, Wereham, wereham, N3, n3, N03, n03, N003, n003, medieval moated site, moated site, moat, Early Medieval, early medieval, twelfth, 12th, century, Century, 12th century, 12th Century field-walking, field walking, fieldwalking, watching brief, Excavation, excavation, settlement, settlement remains, ditch, dicthes, boundary, boundary ditch, boundary ditches, pit, pits, structure, post built, post-built, postbuilt, post-built structure, pottery, Pottery, pot, ceramic, sherd, vessel, Medieval, medieval, Medieval pottery, medieval pottery, Report N3, report N3, report n3, Report n3, CCCAFU report N3
Subjects:
Geographical Areas > English Counties > Norfolk
Period > UK Periods > Medieval 1066 - 1540 AD
Period > UK Periods > Modern 1901 - present
Depositing User:

Archives

Date Deposited:
21 Apr 2020 07:31
Last Modified:
21 Apr 2020 07:31
URI:
http://eprints.oxfordarchaeology.com/id/eprint/5255
Actions (login required)