Kemp, Steve (1997) Prehistoric Landscapes at Stowe Farm, West Deeping, Lincolnshire: An Archaeological Excavation. [Client Report] (Unpublished)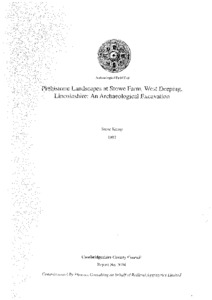 Preview
PDF




CCCAFU_report N04.pdf


Available under License Creative Commons Attribution Share Alike.
Download (8MB) | Preview
Abstract
An enhanced archaeological recording brief was carried out in area 2B of Redland Aggregates quarry at Stowe Farm, West Deeping, Lincolnshire (NGR TF100111), by the Archaeological Field Unit of Cambridgeshire County Council. The work took place between 17th June and 5th August 1997, and was undertaken in accordance with the Design Brief prepared by Phoenix Consulting and approved by the curatorial authority of Lincolnshire County Council. It was designed to continue the enhanced recording brief previously undertaken by Tempus Reparatum. This phase of work undertook excavation within 2.06 ha of the total area of 17.5 ha outlined for extraction.
Results indicate that the remnants of a Bronze Age agricultural system were preserved within the excavation area. The Bronze Age landscape appeared dynamic, consisting over time of a series of boundaries defined by posts, within or on the edges of which lay pits and structures. The latter were either circular in form or a more complex series of interlinked semi-circular structures. The pottery and lithics were so sparse that it is unlikely that there are the remains of settlements, but are rather a series of small agricultural structures within field systems.
During the later prehistoric and historic periods ditches appear to be the main method by which boundaries were formalised. Romano-British activity in the area consisted of a pair of parallel interrupted ditches set at 62m apart. These ditches may represent boundaries to long or narrow fields which lay on the southern side of the Romano-British trackway which was identified by Tempus Reparatum in Area 2A.
Northwest-south-east orientated furrows crossing the site represent the remnants of a medieval field system. Traces of an earlier system which consisted of narrower cultivation strips were present. The alignment of the furrows appears to duplicate that of the Romano-British field system, possibly indicating some continuity in the landscape structure from Roman times until enclosure.
Item Type:
Client Report
Uncontrolled Keywords:
Lincolnshire, lincolnshire, West Deeping, west deeping, N4, n4, N04, n04, N004, n004, Bronze Age, bronze age, agriculture, field system, Romano-British, romano-british, Roman, roman, first, 1st, century, Century, medieval, Medieval, ridge and furrow, furrow, furrows, ridge and furrows, landscape, landuse, land use, continuity, continuity of landuse, continuity of land use, farming, pit, pits, structure, structures, pens, pen, animal pen, enclosure, enclosures, animal enclosure, animal enclosures, pottery, Pottery, pot, ceramic, sherd, vessel, lithic, lithics, lithic implement, flint, worked, flint, flints, worked flints, Bronze Age pottery, bronze age pottery, report n4, Report n4, report N4, Report N4, CCCAFU report N4
Subjects:
Geographical Areas > English Counties > Lincolnshire
Period > UK Periods > Bronze Age 2500 - 700 BC
Period > UK Periods > Early Medieval 410 - 1066 AD
Period > UK Periods > Iron Age 800 BC - 43 AD
Period > UK Periods > Bronze Age 2500 - 700 BC > Late Bronze Age 1000 - 700 BC
Period > UK Periods > Medieval 1066 - 1540 AD
Period > UK Periods > Roman 43 - 410 AD
Depositing User:

Archives

Date Deposited:
21 Apr 2020 07:48
Last Modified:
21 Apr 2020 07:48
URI:
http://eprints.oxfordarchaeology.com/id/eprint/5256
Actions (login required)