Kemp, S. N. (1999) Prehistoric landscape at Stowe Farm, West Deeping, Lincolnshire. Phase 3b. [Client Report] (Unpublished)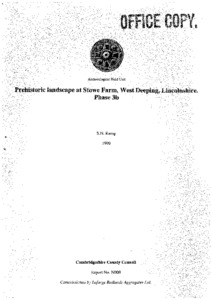 Preview
PDF




CCCAFU_report N08.pdf


Available under License Creative Commons Attribution Share Alike.
Download (6MB) | Preview
Abstract
Archaeological excavations at the aggregate quarry of Stowe Farm, West Deeping, Lincolnshire in September 1998 were undertaken by the Archaeological Field Unit of Cambridgeshire County Council (CCC AFU) on behalf of Lafarge Redland Aggregates Ltd.
The site is located at TF 100111 and consists of a 17.5 ha extraction area where the gravel is systematically excavated and the land restored to agricultural use. This document reports on the excavations undertaken in advance of phase 3A extraction and follows archaeological investigations which began in 1994. Phase 3A (TF 0997/1097) was located to the west of phase 1 and south of phase 2B and consists of an area of 0.78 ha.
The Archaeological Field Unit was commissioned to undertake an enhanced recording brief within the area of phase 3A. This work consisted of a pre-excavation site survey on the basis of which groups of archaeological features were prioritised for excavation. Four groups of features were identified and included a post-built structure with adjacent pits, the southernmost termination of the Celtic enclosures originally identified in phase 1, and a complex ditch arrangement which forms part of the prehistoric boundary feature which extends north-southwards through the whole extraction area.
The results of excavations undertaken within the extraction area since 1994 seem to suggest a generally open Neolithic and Bronze Age landscape with a major north-south landscape division and a scatter of buildings related to agricultural activity. If Pryor's model for livestock management for the area is appropriate to this site the major landscape boundary may have divided the landscape for agricultural purposes and possibly directed livestock access through to 'community stockyards' of the type identified within Fengate, Peterborough. Although at present the post-structures which are undated have been interpreted as circular and, possibly, rectangular huts they are also believed to date to this period and suggest dispersed activity areas where the small quantities of charred grain and animal bone indicate very low intensity agricultural production was undertaken. These activity areas seem to have continued as landscape focus points into the early Iron Age. A number of ritual sites including ring ditches have also been identified which indicates that some of the major components of the Bronze Age landscape are identifiable within the extraction area.
During the Iron Age the landscape shows greater structure and organisation with pit- and post-defined enclosures developing into the major enclosed fields with associated hut which were identified in the phase 1 excavation area. By the later Iron Age and early Roman period these prehistoric ditch systems appear to have become obsolete and Roman trackways and boundary ditches cut across the earlier fields. Sometime between the late Roman and early medieval periods narrow ditches were excavated on an alignment which was to be continued within the medieval field system. This landscape structure continued until enclosure when although the field layout changed the domination of arable cultivation continued until quarrying began.
Item Type:
Client Report
Uncontrolled Keywords:
West Deeping, west deeping, Lincolnshire, lincolnshire, N8, n8, N08, n08, N008, n008, report n8, report N8, Report n8, Report N8, CCCAFU report N8, Phase 3C, Phase 3A, phase 3c, phase 3a, neolithic, Neolithic, Bronze Age, bronze age, pasture, ring ditch, Iron Age, iron age, Roman, roman, early medieval, Early Medieval, medieval, Medieval, Bronze Age ring ditch, Roman trackway, Iron Age trackway, ditch system, field system, prehistoric ditch system, prehistoric field system, land use, landscape, medieval field system, Roman field system, quarry, quarrying, post-medieval quarrying
Subjects:
Geographical Areas > English Counties > Lincolnshire
Period > UK Periods > Bronze Age 2500 - 700 BC
Period > UK Periods > Early Medieval 410 - 1066 AD
Period > UK Periods > Iron Age 800 BC - 43 AD
Period > UK Periods > Medieval 1066 - 1540 AD
Period > UK Periods > Neolithic 4000 - 2200 BC
Period > UK Periods > Roman 43 - 410 AD
Depositing User:

Archives

Date Deposited:
20 Jul 2022 12:20
Last Modified:
20 Jul 2022 12:20
URI:
http://eprints.oxfordarchaeology.com/id/eprint/5261
Actions (login required)