Shepherd, Nick and Wilson, Martin (1999) Land at Wootton Village, Bedfordshire: An Archaeological Desk-Based Assessment. [Client Report] (Unpublished)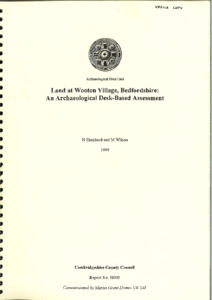 Preview
PDF




CCCAFU_report N09.pdf


Available under License Creative Commons Attribution Share Alike.
Download (1MB) | Preview
Abstract
This desk-based assessment examined three tracts of land in the immediate vicinity of Wootton Village, Bedfordshire. It was carried out in order to identify and map archaeological information derived from documentary sources and thereby to assess the archaeological potential of the study areas.
The assessment indicates that there are few known archaeological sites within the three areas studied.
A medieval moat probably survives beneath the more recent building at Keeley Farm in the north. This may represent the site of Culy Manor.
Aerial photographs in the south show cropmarks that may mark the site of a rectangular enclosure, apparently sub-divided internally. Its form suggests a settlement or possible stock enclosure of late Iron Age or Roman date.
Cropmarks also indicate extensive medieval cultivation across the whole of the study area. Map evidence confirms that the major part of the study area lies within the medieval common fields.
The relative lack of evidence for archaeological survival should not be taken as conclusive. Until recently very few archaeological sites of pre-medieval date had been located within the Vale of Bedford. Recent pre-development trial trenching and sample excavation, close by at Stewartby and Marston Moretaine, has, however, located sites of prehistoric and Saxon date. None of these were previously known from existing sources. The Wootton study area comprises of 116 hectares and it is likely that a number of archaeological sites do survive, as yet undetected, and will only be located by fieldwork. This conclusion is strengthened by the recent discovery of Roman remains just to the west of the Study Area in Keeley Green.
Item Type:
Client Report
Uncontrolled Keywords:
Bedfordshire, bedfordshire, Wootton, wootton, Village, village, Keeley, keeley, Keeley Farm, keeley farm, Culy Manor, culy manor, moat, Iron Age, iron age, enclosure, Roman, roman, medieval, Medieval, cultivation, field system, N9, n9, N09, n09, N009, n009, Report N9, report N9, Report n9, report n9, CCCAFU report N9, Report N09, report N09, Report n09, report n09, CCCAFU report N09, DBA, dba, Desk-Based Assessment, Desk-based Assessment, desk-based assessment
Subjects:
Geographical Areas > English Counties > Bedfordshire
Period > UK Periods > Iron Age 800 BC - 43 AD
Period > UK Periods > Medieval 1066 - 1540 AD
Period > UK Periods > Roman 43 - 410 AD
Depositing User:

Archives

Date Deposited:
15 Jul 2021 12:12
Last Modified:
15 Jul 2021 12:12
URI:
http://eprints.oxfordarchaeology.com/id/eprint/5262
Actions (login required)