Shepherd, Nick and Wilson, Martin (1999) Land at Bromham, Bedfordshire: An Archaeological Desk-based Assessment. [Client Report] (Unpublished)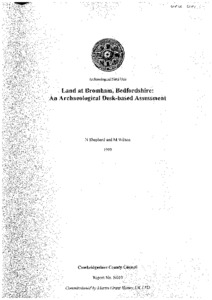 Preview
PDF




CCCAFU_report N10.pdf


Available under License Creative Commons Attribution Share Alike.
Download (6MB) | Preview
Abstract
This report represents the results of an archaeological desk-based assessment of land to the West of Bromham village, Bedfordshire. The purpose of the assessment is to locate known archaeological and historical features within and adjacent to the Study Area in order to provide an indication of the possible constraints on any development.
The major documentary sources were consulted from known features and in addition cartographic and aerial photographs were checked for new data.
Bromham Grange, a moated site, possibly a medieval manor, is located beyond the north-eastern edge of the Study Area, along together with the site of a water mill. Features contemporary with these may extend into the Study Area. Otherwise map evidence suggests the Study Area was largely under cultivation from the medieval period.
An old road, surviving as a bridleway, bisects the Study Area from west to east. This appears to have once connected Bromham Grange with another moated site at Stagsden Bury End 1.5km to the West. The parish boundary between Bromham and Stagsden in part follows this road through the Study Area suggesting the feature may be of some antiquity.
No evidence for prehistoric or Roman period activity was located within the Study Area. A Roman road may run close to the East although the evidence for this is limited and cropmarks and pottery to the North suggest Iron Age and Roman settlement in the general area.
However, the lack of positive data should be set against the limitations of the evidence, and in particular the poor conditions for crop mark development. Equally the evidence of recent excavation in the locality indicates that archaeological sites are more densely distributed than previously thought. This suggests that sites may be present with the Study Area despite the lack of data produced during this survey. Only further field evaluation will provide conclusive evidence for the presence or absence of such sites.
Item Type:
Client Report
Uncontrolled Keywords:
Bromham, bromham, Bedfordshire, bedfordshire, Bromham Grange, bromham grange, moat, medieval, Medieval, manor, cultivation, Roman road, roman road, Iron Age, iron age, settlement, N10, n10, report n10, Report n10, Report N10, report n10, CCCAFU report N10, DBA, dba, Desk-Based Assessment, Desk-based Assessment, desk-based assessment
Subjects:
Geographical Areas > English Counties > Bedfordshire
Period > UK Periods > Iron Age 800 BC - 43 AD
Period > UK Periods > Medieval 1066 - 1540 AD
Period > UK Periods > Roman 43 - 410 AD
Depositing User:

Archives

Date Deposited:
01 Nov 2022 13:35
Last Modified:
01 Nov 2022 13:35
URI:
http://eprints.oxfordarchaeology.com/id/eprint/5263
Actions (login required)