Connor, Aileen (1999) Land at Buckton Fields, Boughton, Northamptonshire: An Archaeological Desk-Top Study. [Client Report] (Unpublished)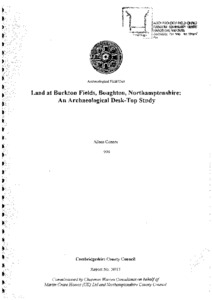 Preview
PDF




CCCAFU_report N13.pdf


Available under License Creative Commons Attribution Share Alike.
Download (6MB) | Preview
Abstract
This desktop study represents the first stage of an archaeological evaluation designed to assess the archaeological potential of 48 hectares of rolling agricultural land known as Buckton Fields in the parish of Boughton in Northamptonshire in advance of a proposed housing development. In this first stage of evaluation, a series of non-intrusive techniques were used, including documentary study, aerial photographic assessment, fieldwalking and geophysical survey. Physical access was, however, unavailable for approximately half of the total development area. Therefore, whilst documentary study and air photographic work were carried out for the whole 48ha, fieldwalking and geophysical survey were only applied to half of it. Fieldwalking was further limited by the fact that only one of the three fields where access was available was still being ploughed. These limitations of fieldwalking were compensated for by undertaking a detailed geophysical survey of a 50% sample of the accessible area.
A number of potential archaeological sites were revealed within the development area. In field 1, at its north-western corner, possible archaeological features were clustered along the eastern boundary of the field. Dating was inconclusive, although a small number of flint flakes and Roman pottery sherds collected in the vicinity of the features suggest possible prehistoric and Roman activity. In field 2, at the north-east corner, archaeological features dating to World War II were identified; there were also a number of features which may be earlier in date. These features appear to represent ring-ditches, pits and enclosures. No dating evidence was collected from any of these features. The Northamptonshire sites and monuments record suggested that there was another ring-dith in the north-eastern part of the field, but this was not confirmed. An area in the north-western corner of field 2 was shown to have been disturbed by quarrying, and the geophysical survey suggested that there were two other areas of modern disturbance. Field 3 lay to the south of field 2. No archaeological features were detected in it, although they may have been masked by modern disturbance. Air photo studies revealed archaeological features in the southerly part of the area without access, including a possible trackway and a possible ring-ditch.
One of the aims of this study was to suggest target areas for the next stage of evaluation which will involve intrusive trial-trenching. It is suggested that evaluation trenches should be placed across areas of crop-marks and geophysical anomalies, and that the lithic scatter in field 2 should also be evaluated. The possible ring-ditch in the north-east of field 2 should also be investigated. Since non-intrusive surveys such as those used so far for this study do not show a complete picture of past landscapes it is suggested that apparently blank areas are also investigated by trial-trenching. The quarried area in field 2 and the areas of modern disturbance indicated by the geophysical survey, however, are probably not worthy of further investigation.
Item Type:
Client Report
Uncontrolled Keywords:
Boughton, boughton, Northamptonshire, northamptonshire, Mesolithic, mesolithic, Neolithic, neolithic, Bronze Age, bronze age, Iron Age, iron age, Roman, roman, ring-ditch, ring ditch, Post-Medieval, post-medieval, Post Medieval, post medieval, modern, Modern, geophysical survey, magnetometer, magnetic survey, N13, n13, report n13, Report n13, report N13, Report N13, CCCAFU report N13, DBA, dba, Desk-Based Assessment, Desk-based Assessment, desk-based assessment, fieldwalking, field walking, aerial photo, aerial photography, geophysical survey, geophys
Subjects:
Geographical Areas > English Counties > Northamptonshire
Period > UK Periods > Bronze Age 2500 - 700 BC
Period > UK Periods > Iron Age 800 BC - 43 AD
Period > UK Periods > Medieval 1066 - 1540 AD
Period > UK Periods > Mesolithic 10,000 - 4,000 BC
Period > UK Periods > Modern 1901 - present
Period > UK Periods > Neolithic 4000 - 2200 BC
Period > UK Periods > Post Medieval 1540 - 1901 AD
Period > UK Periods > Roman 43 - 410 AD
Depositing User:

Archives

Date Deposited:
15 Jul 2021 12:26
Last Modified:
15 Jul 2021 12:26
URI:
http://eprints.oxfordarchaeology.com/id/eprint/5265
Actions (login required)