Blackbourn, Kathryn (2019) Cromwell Community College, Chatteris, Cambridgeshire. [Client Report] (Unpublished)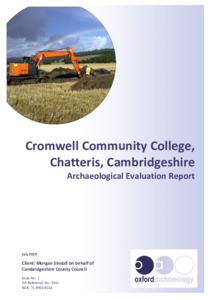 Preview
PDF




OAE_Report 2351_CHACCC19_HR.pdf


Available under License Creative Commons Attribution Share Alike.
Download (3MB) | Preview
Abstract
From the 26th to the 28th of June 2019, Oxford Archaeology East undertook an archaeological evaluation at Cromwell Community College, Chatteris, Cambridgeshire (TL 3963 8536).
A total of six trenches were excavated across the development area, with five of these measuring 30m in length and the final trench measuring only 20m in length due to modern disturbances. Three of the trenches (1, 3 and 6) were devoid of archaeology. Within the remaining three trenches (2, 4 and 5) a series of furrows were identified with an east to west alignment, thought to be of a medieval to post-medieval date. A single quarry pit, of a contemporary date was also observed in Trench 2 towards the northern end of the site.
Small quantities of finds were recovered from these features and included abraded medieval and post-medieval pottery alongside clay pipe, ceramic building material, glass and animal bone. A single residual worked flint was also recorded within furrow 4. A carbonised single rye grain, a single weed seed of clover/medick and a small quantity of duck weed was recovered from quarry pit 12 indicating the feature most likely held water at some point and that human activity was present within the vicinity.
Although very few features have been identified during this phase of work the site aids in identifying the limits of earlier settlements excavated within the immediate area.
Item Type:
Client Report
Uncontrolled Keywords:
Evaluation, evaluation, archaeological evaluation, Cambridgeshire, cambridgeshire, Chatteris, chatteris, Cromwell Community College, cromwell community college, Post-Medieval, post-medieval, Post Medieval, post medieval, Pottery, pottery, Post-Medieval pottery, post-medieval pottery, Post Medieval pottery, post medieval pottery, clay pipe, CTP, ctp, CBM, cbm, Ceramic Building Material, ceramic building material, pit, quarry, quarry pit, extractive pit, furrow, ridge and furrow, animal bone, animal bones, animal remains, bone, glass, 2351, report 2351, Report 2351, OAE report 2351
Subjects:
Geographical Areas > English Counties > Cambridgeshire
Period > UK Periods > Medieval 1066 - 1540 AD
Period > UK Periods > Post Medieval 1540 - 1901 AD
Divisions:
Oxford Archaeology East
Depositing User:

Hamilton

Date Deposited:
21 Aug 2019 07:13
Last Modified:
21 Aug 2019 07:13
URI:
http://eprints.oxfordarchaeology.com/id/eprint/5278
Actions (login required)