Kenney, S. (2003) Romano-British Settlement Evidence at 31 Tunbridge Lane, Bottisham, Cambridgeshire: Post-Excavation Assessment and Updated Project Design. [Client Report] (Unpublished)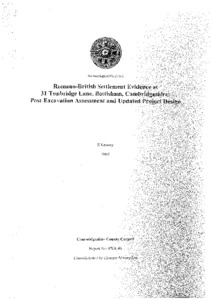 Preview
PDF




CCCAFU_report PXA40.pdf


Available under License Creative Commons Attribution Share Alike.
Download (14MB) | Preview
Abstract
Excavation has been undertaken in Bottisham, Cambridgeshire (TL 5442/6092). The excavation was commissioned by Upware Marina Ltd., who are redeveloping the site, and was undertaken by Cambridgeshire County Council Archaeological Field Unit (AFU).
The excavation produced a few flint artefacts. They may belong to the early Neolithic, however, these are all thought to be residual and no features securely dated to the earlier prehistoric periods have been found. A number of Bronze Age worked flints were found in both halves of the site. While some were residual in the fills of later features, others were found at the interface of overlying deposits and the natural.
The majority of the features uncovered during this excavation were dated to the early Roman period, consisting of ditches, pits, postholes, ovens and flues.
One ditch may belong to the medieval period. The dating evidence is slight and occurs with Roman pottery, but residuality has not yet been assigned for these deposits.
A post-medieval building had recently been removed from the site, and the foundation trenches truncated many of the features, although this in fact did little to hamper excavation and interpretation.
Item Type:
Client Report
Uncontrolled Keywords:
Cambridgeshire, cambridgeshire, Bottisham, bottisham, PXA40, pxa40, report PXA40, report pxa40, Report pxa40, Report PXA40, CCCAFU report PXA40, Roman, roman, domestic, Neolithic, neolithic, Bronze Age, bronze age, lithic, lithics, lithic implement, lithic implements, flint, flints, worked flint, medieval, Medieval, Post-Medieval, post-medieval, Post Medieval, post medieval, building, structure, foundation, foundations, truncation, pottery, Pottery, pot, ceramic, sherd, vessel, Roman pottery, roman pottery, Medieval pottery, medieval pottery, London Ware, London ware, london ware, Horningsea Ware, Horningsea ware, horningsea ware, Samian, samian, Nene Valley Ware, Nene Valley ware, nene valley ware, Nene Valley, nene valley, animal remains, animal bone, animal bones, bones, bone, mammal, HSR, hsr, human remains, Human Remains, infant remains, perinatal, infant burial, burial, cattle, pig, horse, dog, cat, eel, fish, pike, herring, bird, wild bird, domestic bird, ecofact, ecofacts, metalwork, nail, nails, coin, coins, roman coins, Roman coins, mattock, socket, fragment, fragmentary, worked stone, quern, quern stone, quernstone, Millstone Grit, millstone grit, rubbing stone, rotary quern, saddle quern, CBM, cbm, Ceramic Building Material, ceramic building material, brick, tile, imbrex, tegula, tegulae, herth, flue, pit, ditch, pits, ditches, oven, malting, malting oven, corn dryer, daub, fired clay, lining, fired clay lining, villa estate, agriculture, rural, rural settlement, farming, livestock, land use, PXA, pxa, Post-Excavation Assessment, post-excavation assessment
Subjects:
Geographical Areas > English Counties > Cambridgeshire
Period > UK Periods > Bronze Age 2500 - 700 BC
Period > UK Periods > Medieval 1066 - 1540 AD
Period > UK Periods > Modern 1901 - present
Period > UK Periods > Neolithic 4000 - 2200 BC
Period > UK Periods > Post Medieval 1540 - 1901 AD
Period > UK Periods > Roman 43 - 410 AD
Depositing User:

Archives

Date Deposited:
17 Apr 2020 06:32
Last Modified:
17 Apr 2020 06:32
URI:
http://eprints.oxfordarchaeology.com/id/eprint/5285
Actions (login required)