Atkins, Robert and Connor, Aileen (2003) Prehistoric, Roman and Anglo-Saxon Remains at Land off Brandon Road, Thetford: Post-Excavation Assessment Volumes 1 & 2. [Client Report] (Unpublished)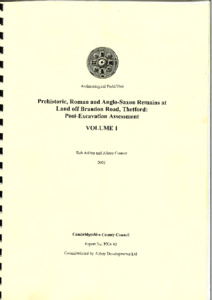 Preview
PDF




CCCAFU_report PXA42 V1.pdf


Available under License Creative Commons Attribution Share Alike.
Download (6MB) | Preview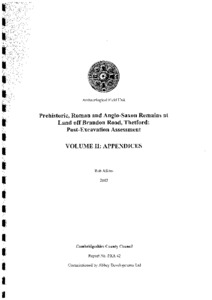 Preview
PDF




CCCAFU_report PXA42 V2.pdf


Available under License Creative Commons Attribution Share Alike.
Download (25MB) | Preview
Abstract
Excavation of an area of land (1.4ha) close to Brandon Road, Thetford, Norfolk was conducted in September 2002 by Cambridgeshire County Council Archaeological Field Unit (AFU). Important evidence for occupation from the mid 2nd century (Roman) to the 8th or 9th centuries (Middle Saxon) was found and a significant prehistoric component was also present.
The skeleton of a child of probably prehistoric date had been buried in a crouch position associated with the bones of a calf. Nearby, debris from flint knapping during the Mesolithic or Early Neolithic was preserved in a natural hollow. Over 100m to the west was a deposit of a very burnt flint, possibly associated with feasting, pottery making or other specialised activity. The date of this activity is not known although similar deposits are often interpreted as Bronze Age.
Ephemeral and fragmentary evidence for a ditched field system and animal stock enclosure related to the earliest Roman phase. The early field system appears to have been replaced and re-aligned throughout the Roman period. Field systems, stock enclosures, barns, wells and rubbish dumps are all represented, although shifts in emphasis and focus over time are suggested by changes in alignment. Both pottery and metalwork imply continuity at the site from the Roman into the Early Saxon period.
Early Saxon activity attributed to the 5th to 7th centuries is attested by buildings, ovens and pits. The majority of the buildings may have been deliberately located around a rectangular space. Metalworking debris in the backfill of one of the buildings appears to represent a hoard of scrap gathered for recycling and, significantly, the scrap metal includes pieces of Roman as well as Anglo-Saxon date. After the abandonment of these early buildings, during the Middle Saxon period (8th to mid 9th centuries) the site reversed to fields confined within north to south boundary ditches. These ditches were later replaced by a large enclosure with two internal buildings, an industrial oven complex and rubbish dumps. This enclosure seems to have been short-live and was overlain by a building and a large pit backfilled with another hoard of scrap gathered for recycling. The site appears to have been abandoned by the middle of the 9th century.
Item Type:
Client Report
Uncontrolled Keywords:
Norfolk, norfolk, Thetford, thetford, PXA42, pxa42, report pxa42, report PXA42, Report pxa42, Report PXA42, CCCAFU report PXA42, Neolithic, neolithic, Bronze Age, bronze age, child burial, HSR, hsr, human remains, Human Remains, burial, crouch burial, crouched burial, ritual placement, grave goods, gravegoods, calf, calf bone, calf bones, Roman, roman, field system, agriculture, Early Saxon, saxon, Early Medieval, early medieval, metalworking, hoard, Middle, middle, Anglo-Saxon, anglo-saxon, pottery, Pottery, pot, ceramic, sherd, vessel, Roman pottery, roman pottery, Early Medieval pottery, early medieval pottery, enclosure, enclosures, livestock enclosure, livestock enclosures, livestock, farming, ditch, boundary, boundary ditch, ditched enclosure, structure, building, barn, barns, aisled barn, farmstead, well, wells, rubbish pit, pit, pits, midden, midden deposit, midden deposits, refuse, MWD, mwd, metalworking debris, Metalworking Debris, slag, Slag, oven, oven complex, coin, coins, Roman coin, Roman coins, roman coin, roman coins, styca, Northumbrian styca, northumbrian styca, brooch, small-long brooch, pin, Hamwih type, strap end, strap-end, strapend, girdle hanger, buckle, Polden Hill brooch, Dolphin brooch, polden hill brooch, dolphin brooch, tweezer, penannular brooch, Fowler type, weight, knife, ferrule, fragment, fragments, nail, nails, awl, sandy ware, sandy grey ware, Oxford Red Colour Coat Ware, Oxford Red Colour Coat ware, Oxford red colour coat ware, Nene Valley Ware, Nene Valley ware, nene valley ware, Samian, samian, Micaceous Grey ware, micaceous grey ware, Ipswich Ware, Ipswich ware, ipswich ware, post-built structure, beamslot, beam slot, posthole, post hole, postholes, post holes, SFB, sfb, Sunken-featured building, Sunken-Featured Building, sunken-featured building, grubenhaus, Hall, hall, golf course, farthing token, farting tokens, token, tokens, lithic, lithics, lithic implement, lithic implements, flint, flints, worked flint, burnt flint, debitage, scatter, flint scatter, spindlewhorl, spindle whorl, loomweight, loom weight, counter, gaming counter, decorated pottery, decorated sherd, CBM< cbm, ceramic building material, Ceramic Builing Material, brick, tile, fired clay, daub, worked stone, quern, quern stone, quernstone, Millstone Grit, Millstone girt, millstone grit, Hertfordshire Puddingstone Conglomerate, Hertfordshire puddingstone conglomerate, hertfordshire puddingstone conglomerate, Greensand, greensand, Lava, lava, whetstone, antler, red deer antler, pin beaters, pin beater, needle, worked bone, bone, bones, animal bone, animal bones, animal remains, cattle, sheep, goat, pig, horse, ecofact, ecofacts, CPR, cpr, Charred Plant Remains, charred plant remains, charcoal, heather, cereal, seeds, seed, spelt, PXA, pxa, Post-Excavation Assessment, post-excavation assessment
Subjects:
Geographical Areas > English Counties > Norfolk
Period > UK Periods > Bronze Age 2500 - 700 BC
Period > UK Periods > Early Medieval 410 - 1066 AD
Period > UK Periods > Iron Age 800 BC - 43 AD
Period > UK Periods > Mesolithic 10,000 - 4,000 BC
Period > UK Periods > Modern 1901 - present
Period > UK Periods > Neolithic 4000 - 2200 BC
Period > UK Periods > Roman 43 - 410 AD
Depositing User:

Archives

Date Deposited:
17 Apr 2020 08:27
Last Modified:
17 Apr 2020 08:27
URI:
http://eprints.oxfordarchaeology.com/id/eprint/5288
Actions (login required)