Hinman, Mark (2004) Land East of St Neots, Cambridgeshire. [Client Report] (Unpublished)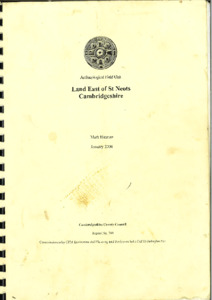 Preview
PDF




CCCAFU_report700a.pdf


Available under License Creative Commons Attribution Share Alike.
Download (3MB) | Preview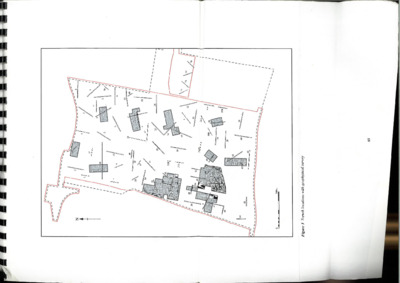 Preview
PDF




CCCAFU_report700b.pdf


Available under License Creative Commons Attribution Share Alike.
Download (3MB) | Preview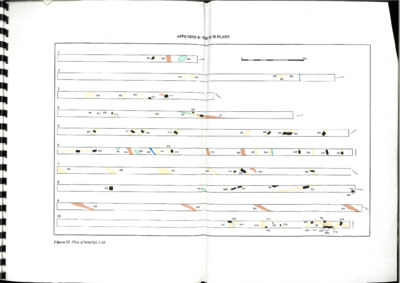 Preview
PDF




CCCAFU_report700c.pdf


Available under License Creative Commons Attribution Share Alike.
Download (1MB) | Preview
Abstract
Between the 27th of October and the 8th of December 2003 the Archaeological Field Unit (AFU) of Cambridgeshire County Council undertook the evaluation of seven fields of ploughed arable land covering 51ha, to the east of St Neots. The work was commissioned by CPM Environmental Planning and Design on behalf of JJ Gallagher Ltd. This investigation was carried out following a desk-based assessment, geophysical survey and fieldwalking in order to add to the current level of information available relating to the character, date and possible extent of those archaeological remains present within the proposed development area.
Trial trenching revealed both a greater intensity and more extensive survival of archaeological remains than indicated by the results of either geophysical survey or fieldwalking, providing evidence of a human presence in this area from the Neolithic to modern times.
The southern limit of the site was located on roughly level low lying ground at 20m OD rising gently through the central portion of the area to a level plateaux at 40m OD to the north. The natural topography provides a relatively sheltered, well drained, south-facing location, the physical characteristics of which seem to have informed successive periods of land use, both for settlement and agriculture, from at least as early as the Iron Age to the present day.
By far the most intensive area of activity was concentrated within the south-western quadrant of the proposed development, around the extant farm. It primarily consisted of evidence for late pre-Roman Iron Age (LPRIA) and Roman occupation. In addition traces of a Bronze Age presence (redeposited pottery) and hand made ceramics that may be Early Saxon in date were recovered from within the core of this settlement related activity.
Further evidence for Bronze Age and earlier Iron Age agricultural activity was present within the northern and eastern portions of the development. Mid to Late Iron Age settlement related activity was identified towards the southern boundary of the site. Iron Age and Romano-British activity was revealed along the crest of the south-facing slope which consisted of a series of substantial enclosures, possibly associated with the settlement core down-slope to the south-west.
Item Type:
Client Report
Uncontrolled Keywords:
Cambridgeshire, cambridgeshire, St Neots, st neots, St Neots Rural. st neots rural, 700, report 700, Report 700, CCCAFU report 700, Roman, roman, agriculture, Bronze Age, bronze age, Saxon, early medieval, Early Medieval, saxon, Iron Age, iron age, Romano-British, romano-british, settlement, medieval, Medieval, Pottery, pottery, pot, ceramic, sherd, vessel, Roman pottery, roman pottery, Bronze Age pottery, bronze age pottery, Iron Age pottery, iron age pottery, Early Iron Age pottery, early iron age pottery, Early Medieval pottery, early medieval pottery, Saxon pottery, saxon pottery, Boundary, boundary, ditch, Ditch, boundary ditch, boundary ditches, enclosure, enclosures, settlement core, Loves Farm, loves farm, Evaluation, evaluation, archaeological evaluation, pit, pits, Pit, Pits, post hole, posthole, post-hole
Subjects:
Geographical Areas > English Counties > Cambridgeshire
Period > UK Periods > Bronze Age 2500 - 700 BC
Period > UK Periods > Iron Age 800 BC - 43 AD > Early Iron Age 800 - 400 BC
Period > UK Periods > Early Medieval 410 - 1066 AD
Period > UK Periods > Iron Age 800 BC - 43 AD
Period > UK Periods > Medieval 1066 - 1540 AD
Period > UK Periods > Modern 1901 - present
Period > UK Periods > Neolithic 4000 - 2200 BC
Period > UK Periods > Post Medieval 1540 - 1901 AD
Period > UK Periods > Roman 43 - 410 AD
Depositing User:

Archives

Date Deposited:
15 Sep 2020 13:42
Last Modified:
15 Sep 2020 13:42
URI:
http://eprints.oxfordarchaeology.com/id/eprint/5289
Actions (login required)