Whitehead, Samuel (2004) Prehistoric, Roman and Later Activity at the East of England Showground, Orton Waterville, Peterborough: An Archaeological Excavation. [Client Report] (Unpublished)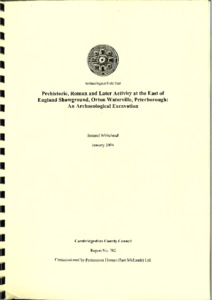 Preview
PDF




CCCAFU_report702.pdf


Available under License Creative Commons Attribution Share Alike.
Download (1MB) | Preview
Abstract
Between 13th April and 2nd May 2003 an archaeological excavation was carried out on one third of a hectare of land at the East of England Showground adjacent to the Oundle Road, near Alwalton, Peterborough (TL 142 960). The most recent use for the land has been as an overflow car park and a venue for car boot sales. The archaeological work was carried out by staff of the Cambridge County Council Archaeological Field Unit (AFU) and commissioned by Persimmon Homes (East Midlands) Ltd in advance of the construction of houses and associated access roads and services.
The earliest evidence of human activity was represented by a single undiagnostic and residual Bronze Age flint flake. Prehistoric activity was also indicated by pottery deposited in a large pit and a curving irregular Iron Age ditch which crossed the site: the latter contained Middle to Late Iron Age shell tempered pottery, charred prehistoric wheat varieties and the remnants of a possible cremation.
The Romans appeared to have used the existing Iron Age boundary in creating new boundaries/field systems. The two Roman ditches excavated contained varied assemblages of standard Roman kitchenwares and tablewares as well as storage vessels and roof tile. Such finds may indicate the presence of a substantial building in the vicinity, presumably a farmsstead.
Later activity was also based around agriculture, represented by post-medieval field drains in both stone and ceramic pipe as well as plough furrows. More recent plough scares were also visible.
Item Type:
Client Report
Uncontrolled Keywords:
peterborough, Peterborough, Cambridgeshire, cambridgeshire, 702, report 702, Report 702, CCCAFU report 702, Iron Age, iron age, Roman, roman, field system, farmstead, Iron Age cremation, Cremation, possible cremation, HSR, hsr, Human Remains, human remains, bone, bones, human bones, human bone, cremated bone, cremated bones, cremated remains, Pottery, pottery, pot, ceramic, sherd, vessel, Middle Iron Age, middle iron age, Late Iron Age, late iron age, Iron Age pottery, iron age pottery, Roman pottery, roman pottery, Middle Iron Age pottery, middle iron age pottery, Late Iron Age pottery, late iron age pottery, shell-tempered pottery, shell tempered pottery, CPR, cpr, Charred Plant Remains, charred plant remains, wheat, wheat grain, wheat grains, ditch, ditches, boundary ditch, Iron Age boundary ditch, iron age boundary ditch, curvilinear, curvilinear ditch, irregular ditch, field system, field systems, agriculture, agricultural landscape, Roman agriculture, roman agriculture, flint, worked flint, lithic, lithics, lithic implement, flint flake, Bronze Age, bronze age, Bronze Age flint, bronze age flint, residual flint, storage vessel, CBM, cbm, Ceramic Building Material, ceramic building material, tile, roof tile, Roman roof tile, roman roof tile, Post Medieval, Post-Medieval, post medieval, post-medieval, furrow, furrows, ridge and furrow, ridge and furrows, plough scar, plough scars, field drain, field drains
Subjects:
Geographical Areas > English Counties > Cambridgeshire
Period > UK Periods > Bronze Age 2500 - 700 BC
Period > UK Periods > Iron Age 800 BC - 43 AD
Period > UK Periods > Iron Age 800 BC - 43 AD > Late Iron Age 100 BC - 43 AD
Period > UK Periods > Iron Age 800 BC - 43 AD > Middle Iron Age 400 - 100 BC
Period > UK Periods > Post Medieval 1540 - 1901 AD
Period > UK Periods > Roman 43 - 410 AD
Depositing User:

Archives

Date Deposited:
05 Oct 2020 13:00
Last Modified:
05 Oct 2020 13:00
URI:
http://eprints.oxfordarchaeology.com/id/eprint/5291
Actions (login required)