Hatton, Andrew (2004) Post-Medieval Remains at South Bank, Peterborough: An Archaeological Evaluation. [Client Report] (Unpublished)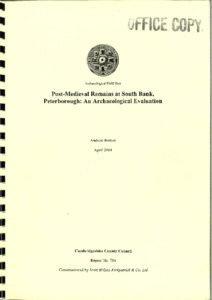 Preview
PDF




CCCAFU_report704.pdf


Available under License Creative Commons Attribution Share Alike.
Download (2MB) | Preview
Abstract
Between 4th and 24th December 2003 the Archaeological Field Unit of Cambridgeshire County Council carries out an evaluation on land that lies on the south bank of the River Nene, off London Road and Wast Station Road, Peterborough (TL 5195 2980). This work was carried out on behalf of Scot Wilson Kirkpartick & Co. Ltd in advance of a planning application.
Seven trenches were excavated in order to ascertain the presence or absence of archaeological remains. The trenches revealed a number of ditches that may date to the post-medieval period. Many of the ditches probably functioned as drainage channels, as they all apparently led towards the River Nene. Silted-up river channels were also present in Trenches 1, 2, 3, 5 and 8, which again once probably flowed towards the river. The presence of the river channels as well as the ditches suggests a very real problem with water inundation across the area.
The potential problem of flooding may account for the absence of occupational evidence across the site. It is also possible, however, that extensive development of the site, initially through the construction of the railway system during the 19th century and later the construction of industrial units, has removed surviving archaeological remains. At this stage it is impossible to conclude that later industrial development has removed all the archaeological remains across the site. In addition, the great depth of overburden encountered during the excavation or Trenches 1,2 and 8 meant that trenches could not be extended to provide a fuller understanding of archaeological remains.
Item Type:
Client Report
Uncontrolled Keywords:
Cambridgeshire, cambridgeshire, Peterborough, peterborough, 704, post-medieval, Post-Medieval, post medieval, Post Medieval, River Nene, river nene, overburden, flood, flooding, report 704, Report 704, CCCAFU report 704, railway, railway system, truncation
Subjects:
Geographical Areas > English Counties > Cambridgeshire
Period > UK Periods > Post Medieval 1540 - 1901 AD
Depositing User:

Archives

Date Deposited:
21 May 2021 11:37
Last Modified:
21 May 2021 11:37
URI:
http://eprints.oxfordarchaeology.com/id/eprint/5293
Actions (login required)