Hinman, Mark (2004) Neolithic, Bronze Age and Iron Age activity on land adjacent to Hauxton Road, Trumpington, Cambridge. [Client Report] (Unpublished)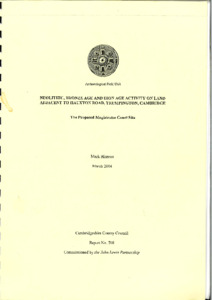 Preview
PDF




CCCAFU_report708.pdf


Available under License Creative Commons Attribution Share Alike.
Download (2MB) | Preview
Abstract
The subject site was located on the south-western edge of Trumpington adjacent to the Park and Ride facility. Archaeological excavation on the proposed site of the new Magistrates Courts was undertaken during June and July 2001. This excavation forms one part of an integrated site archive covering the remains of an extensive and highly significant prehistoric site that is now known to extend southwards across the site of the Park and Ride and westwards towards the Cam into land currently occupied by the John Lewis Partnership (JLP) and Monsanto.
Excavations at the Magistrates Court site revealed archaeological evidence of human activity from earlier prehistory to the post-medieval period. Significant archaeological remains on this part of the site consisted of a series of small pits and post holes dateable to the Early to Middle Iron Age. Ceramics from these features were made and deposited between the 6th and 2nd centuries BC. The presence of human skull fragments and other items such as fragments of grinding stones and loomweights is indicative of selective, ritual deposition within certain features.
Similar types of features were investigated during related excavations at the Park and Ride site where almost 600 pits dateable predominantly to the Early and Middle Iron Age (c.700-300 BC and c.300-100 BC respectively) were excavated. Five enclosures were sample excavated and a number of specific foci were identified, including mortuary enclosures, four post structures, clusters of pits and at least two possible shrines. The presence of a few sherds of pottery possibly dateable to the Roman period was noted although further work is required before a definitive end date for activity on the site can be firmly established.
The Trumpington site has yielded one of the largest assemblages of Early to Middle Iron Age pottery in the region and a considerable quantity of well preserved animal bone. Furthermore the site has produced an unusually large assemblage of pins, brooches and other objects of metalwork and worked bone compared to known domestic sites. The unusual character of the site is further emphasised by the presence of what appears to be a unique concentration of special and unusual deposits of human and animal remains which, it is currently thought, occurred in greater frequency than on any other sites in the region. The combined evidence from the enclosures (including their date and alignment) and those of related features (such as four post structures, shrines and mortuary enclosures) and the spatial patterning of the associated pit clusters is not yet known on any other Early to Middle Iron Age sites in eastern England (J.D. Hill pers. comm.).
Item Type:
Client Report
Uncontrolled Keywords:
Cambridgeshire, cambridgeshire, Trumpington, trumpington, 708, report 708, Report 708, CCCAFU report 708, Iron Age, iron age, Middle Iron Age, middle iron age, shrine, Early Iron Age, early iron age, Magistrates Court, magistrates court, Park & Ride, park & ride, park and ride, human remains, HSR, hsr, Human Remains, bone, bones, human bone, human bones, animal remains, animal bone, animal bones, Pottery, pottery, pot, ceramic, sherd, vessel, Iron Age pottery, iron age pottery, Middle Iron Age pottery, middle iron age pottery, Early Iron Age pottery, early iron age pottery, ritual, ritual deposit, ritual deposition, mortuary enclosure, mortuary enclosures, enclosure, enclosures, enclosure ditch, ditch, ditches, structure, structures, four post structure, four post structures, worked bone, worked bone artefact, pin, brooch, pins, brooches, weight, weights, loom weight, loomweight, loom weights, loomweights, landscape, landscape study, agriculture, farming
Subjects:
Geographical Areas > English Counties > Cambridgeshire
Period > UK Periods > Bronze Age 2500 - 700 BC
Period > UK Periods > Iron Age 800 BC - 43 AD > Early Iron Age 800 - 400 BC
Period > UK Periods > Iron Age 800 BC - 43 AD > Middle Iron Age 400 - 100 BC
Period > UK Periods > Neolithic 4000 - 2200 BC
Period > UK Periods > Roman 43 - 410 AD
Depositing User:

Archives

Date Deposited:
05 Oct 2020 12:32
Last Modified:
05 Oct 2020 12:32
URI:
http://eprints.oxfordarchaeology.com/id/eprint/5294
Actions (login required)