Fletcher, Taleyna and Hinman, Mark (2004) An Archaeological Evaluation at Land Adjacent to Parkway, Hinchingbrooke, Cambridgeshire. [Client Report] (Unpublished)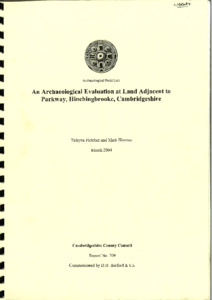 Preview
PDF




CCCAFU_report709.pdf


Available under License Creative Commons Attribution Share Alike.
Download (1MB) | Preview
Abstract
Between 1st and 3rd March 2004 the Cambridgeshire County Council Archaeological Field Unit (AFU) undertook an evaluation by means of trial trenching on land adjacent to Parkway, Hinchingbrooke (TL 223 722). The work was commissioned by D.H. Barford & Co. on behalf of Huntingdonshire District Council in advance of the proposed sale of land for residential development.
Extensive remains of predominantly Iron Age and Romano-British date have previously identified and excavated by the AFU on land adjacent to the southern, western and northern boundaries of this development area as part of the Bob's Wood project. Archaeological remains identified by the evaluation included one small heavily truncated pit of possible Bronze Age origin (c.2000BC) in the north-eastern corner of the development area and a similarly sized feature dateable to the later Iron Age (c.100BC) within the south-western corner.
A small, artefactually sterile pit was located within the north-western corner of the site. Previous evaluation within the same area identified three other pits with similar fills, one of which contain the poorly preserved remains of a horse skull which had been covered by sherd of Early Bronze Age Beaker style pottery. No other remains of this type have so far been identified during the extensive Bob's Wood excavations and any associations between horses and Beaker pottery remain a high priority for studies of the period.
Later features related to post-medieval agriculture, including elements of a ridge and furrow field system.
The relative paucity of archaeological remains within the current area is probably due to the location of this part of the site on the north facing slope of a hill with an underlying heavy boulder clay geology. These factors combined with heavy ploughing in the post-medieval and modern periods explain both the degree of truncation of surviving remains and low density of features.
Item Type:
Client Report
Uncontrolled Keywords:
Cambridgeshire, cambridgeshire, Hinchingbrooke, hinchingbrooke, Bronze Age, bronze age, Early Bronze Age, early bronze age, Pottery, pottery, pot, ceramic, sherd, vessel, Bronze Age pottery, bronze age pottery, Early Bronze Age pottery, early bronze age pottery, Beaker, beaker, Beaker pottery, beaker pottery, furrow, furrows, ridge and furrow, Bob's Woods, bob's woods, 709, report 709, Report 709, CCCAFU report 709, horse, horse skull, animal remains, animal bone, animal bones, bone, bones, skull, ritual deposit, post-medieval, post medieval, Post-Medieval, Post Medieval, agriculture, farming, post-medieval agriculture, plough damage
Subjects:
Geographical Areas > English Counties > Cambridgeshire
Period > UK Periods > Bronze Age 2500 - 700 BC > Early Bronze Age 2500 - 1500 BC
Period > UK Periods > Iron Age 800 BC - 43 AD > Late Iron Age 100 BC - 43 AD
Period > UK Periods > Post Medieval 1540 - 1901 AD
Depositing User:

Archives

Date Deposited:
11 Jun 2021 11:33
Last Modified:
11 Jun 2021 11:33
URI:
http://eprints.oxfordarchaeology.com/id/eprint/5295
Actions (login required)