Atkins, Robert (2004) Medieval and Post-Medieval Features at Nos 46-48 High Street, Ramsey, Cambridgeshire: An Archaeological Evaluation. [Client Report] (Unpublished)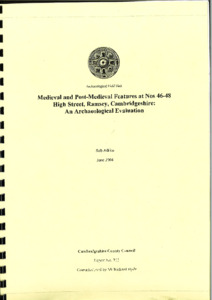 Preview
PDF




CCCAFU_report713.pdf


Available under License Creative Commons Attribution Share Alike.
Download (1MB) | Preview
Abstract
An archaeological evaluation was carried out at Nos 46-48 High Street, Ramsey, Cambridgeshire (TL 2870 8505) to fulfil the requirements of a planning application (H/02/01563/FUL). The project was commissioned by Mr Richard Hyde and the evaluation was carried out by the Archaeological Field Unit (AFU) of Cambridgeshire County Council between 2nd and 10th March 2004.
The work demonstrated that this site was on marginal land which had been reclaimed during the medieval period. An auger survey located the remains of peat with rushed directly below the medieval levelling layers, implying that the site was in standing water within the former Fen edge. The need to reclaim the land may explain why the documentary records show that Brigstrate (the present High Street) was only developed in the late 13th century, after the rest of the medieval town.
The medieval features and layers found in the trenches behind the High Street frontage have been dated by pottery to the 13th or 14th centuries. These represent activity in the backyards of medieval structures along the road frontage (which have been destroyed by subsequent post-medieval activity). The levelling layers contained domestic refuse including pottery and floor tile as well as evidence for lead working.
Above the medieval levelling layers in trench one was a layer which contained a large amount of roof tile and sherds of 15th- to 16th-century pottery. An early post-medieval structure was built on top of this layer. The southern wall of the building survived to five courses high with an internal lime mortar floor. A cobbled surface at roughly the same level was found in an adjacent trench and probably represents the external courtyard to this building.
By the 18th century the building and cobbled surface went out of use and the site was levelled up with up to a metre of deposits. Presumably, the ground water level had risen and the site had returned to its marginal state. Remains of 19th-century buildings fronting the High Street and show on 1860s map of Ramsey only survive as rubble under a later 20th century car park.
Item Type:
Client Report
Uncontrolled Keywords:
Cambridgeshire, cambridgeshire, Ramsey, ramsey, Evaluation, evaluation, archaeological evaluation, 713, report 713, Report 713, CCCAFU report 713, Medieval, medieval, Post-Medieval, post-medieval, Post Medieval, post medieval, town, fen edge, medieval town, pottery, Pottery, pot, ceramic sherd, vessel, Medieval pottery, medieval pottery, Post-Medieval pottery, post-medieval pottery, Post Medieval pottery, post medieval pottery, tile, medieval tile, medieval structure, medieval building, post-medieval structure, post-medieval building, CBM, cbm, Ceramic Building Material, ceramic building material, floor tile, medieval floor tile, backyard, yard, surfaces, surface, cobbled surface, lime mortar
Subjects:
Geographical Areas > English Counties > Cambridgeshire
Period > UK Periods > Medieval 1066 - 1540 AD
Period > UK Periods > Post Medieval 1540 - 1901 AD
Depositing User:

Archives

Date Deposited:
28 Jan 2022 11:26
Last Modified:
28 Jan 2022 11:26
URI:
http://eprints.oxfordarchaeology.com/id/eprint/5299
Actions (login required)