Beauchamp, Céline and Macaulay, Stephen (2004) Romano-British Burials at Bartlow Park, Cambridgeshire: An Archaeological Evaluation. [Client Report] (Unpublished)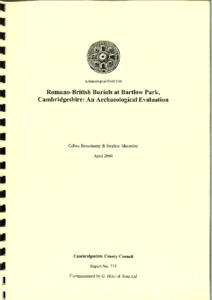 Preview
PDF




CCCAFU_report715.pdf


Available under License Creative Commons Attribution Share Alike.
Download (1MB) | Preview
Abstract
An archaeological evaluation was carried out by the Archaeological Field Unit (AFU) of Cambridgeshire County Council at the Bartlow Park, Bartlow (TL 5871 4507), between the 24th and 25th of March 2004. This investigation was in advance of the proposed development of a lake within the grounds of Bartlow Park. The development site was located to the north of the Bartlow Hills, a Romano-British barrow cemetery of international importance (Scheduled Ancient Monument Number 33355) and immediately to the north of the presumed location of a Roman villa excavated in the 1850s. The archaeological work was commissioned by G.Miles and Sons Ltd, on behalf of Mr and Mrs Fitzpatrick the owners (clients) of Bartlow Park.
A total of five evaluation trenches were machine excavated under archaeological supervision totalling 65m in length. Archaeological remains were recorded in three of the five trenches.
Within Trenches 2 and 3 the remains of Romano-British burials and (possible a barrow mound) were discovered. Two inhumations and four cremations were revealed, although these were just part of what is likely to be a much larger cemetery. The cremations were buried with grave goods (complete samian dishes) and were contained within dark grey cremation jars, dating to the mid 2nd century AD. All the inhumations were juvenile. The burials were not excavated or removed from the site but have been preserved in situ following instructions from the Cambridgeshire County Archaeology Office. It is likely that a number of the burials were buried within an earthen mound, with no grave cuts detected. Interestingly the geophysical survey carried out on the site prior to trenching did not detect these remains. A number of ditches, some thought to be robbed wall foundations and pits/post holes, all of Roman date, were recorded close to the burials and these may relate to the cemetery directly. The wall foundations may mark the limit of the cemetery itself.
No other archaeological features were detected in the other trenches, although a number of later prehistoric (generally Late Bronze Age to Early Iron Age) flint flakes were recovered from the interface of the subsoil and gravel natural in Trench 1. These artefacts would probably have been washed down the valley river bed from nearby knapping areas.
Item Type:
Client Report
Uncontrolled Keywords:
Bartlow Park, bartlow park, Cambridgeshire, cambridgeshire, Bartlow, bartlow, Evaluation, evaluation, archaeological evaluation, 715, report 715, Report 715, CCCAFU report 715, Romano-British, romano-british, Roman, roman, 2nd Century, 2nd century, cremation, inhumation, burial, HSR, hsr, human remains, barrow, cemetery, Pottery, pottery, pot, ceramic, sherd, vessel, Roman pottery, roman pottery, samian, Samian, cremation vessel, roman burial, roman burials, Roman burials, Roman cremation, complete samian vessel, cemetery wall, cemetery precinct, juvenile, juvenile remains
Subjects:
Geographical Areas > English Counties > Cambridgeshire
Period > UK Periods > Roman 43 - 410 AD
Depositing User:

Archives

Date Deposited:
28 Jan 2022 13:12
Last Modified:
28 Jan 2022 13:12
URI:
http://eprints.oxfordarchaeology.com/id/eprint/5300
Actions (login required)