Way, Twigs (2004) Desk-Based Assessment for the Audley End Visitors' Facility, Saffron Walden, Essex - Development Proposal: Orchard, Estate Yard, Barn Yard and Stable Yard. [Client Report] (Unpublished)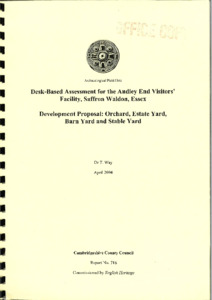 Preview
PDF




CCCAFU_report716.pdf


Available under License Creative Commons Attribution Share Alike.
Download (2MB) | Preview
Abstract
This Desk-Based Assessment outlines the results of the research carried out in relation to the Audley End Development Proposal (Orchard, Estate Yard, Barn Yard and Sable Yard) dated 4th March 2004. It fulfils the Terms of Reference of the Study presented on 5th February 2004.
The research focussed on the primary and secondary documentary and cartographic material held at the following archive repositories: Essex Record Office, Sites and Monuments Records of Essex Heritage Conservation, National Monuments Record (Swindon), Saffron Walden Library, Cambridge University Library (map collections) and archive reports and documents held at English Heritage's Northamptonshire and Cambridgeshire Offices.
The report demonstrates that the proposed development area contains potential for recovery of evidence relating to the following periods:
*prehistoric (Iron Age) material related to settlement and activity in the vicinity of the Warren Hill site, and the river valley;
*Roman material related to settlement to the north of the site and along the route of the Roman Road;
*Anglo-Saxon and medieval material related to settlement and activity along developing routeways and settlements to the west. This may also be present in the area of Duck Street;
*the pre-16th century development of the priory and monastic estate. This is particularly relevant for the stables area.
In addition the study area contains a much higher potential for substantial remains relating to the following:
*the Stable Yard and Bar Yard development, which date to the early to mid 17th century;
*sub-surface remains and standing remains (walls) associated with the development of the area known in the early 20th century as the Timber Yards, and developed by c.1783. Although not part of the development area highlighted in the feasibility study this directly bounds the subject area;
*paths, walls and structural remains (stoves, Little Vinery, back sheds, stove house) related to development of Sir John's garden in c.1763 and alterations to it in 1802 and throughout the later 19th century;
*oaths walls and extant cottages relating to development of the Nursery and Orchard Gardens from the mid 18th century onwards.
With the exception of the development of the Stables and Estate/Barn Yard area as visitor facilities, and majority of the development is for parking, overflow parking and an access road. The impact of the proposed development will be largely dependant of the ground works which might be associated with construction of the car park and overflow (unspecified in the Terms of Reference of Study) and the exact course of the final access route. The precise locations of the access will also affect whether fresh breaks need to be created through existing historic walls.
Item Type:
Client Report
Uncontrolled Keywords:
Essex, essex, Saffron Walden, saffron walden, Audley End, audley end, 716, report 716, Report 716, CCCAFU report 716, Iron Age, iron age, Roman, roman, Anglo-Saxon, anglo-saxon, Medieval, medieval, post-medieval, Post-Medieval, DBA, dba, Desk-Based Assessment, Desk-based Assessment, desk-based assessment
Subjects:
Geographical Areas > English Counties > Essex
Period > UK Periods > Early Medieval 410 - 1066 AD
Period > UK Periods > Iron Age 800 BC - 43 AD
Period > UK Periods > Medieval 1066 - 1540 AD
Period > UK Periods > Post Medieval 1540 - 1901 AD
Period > UK Periods > Roman 43 - 410 AD
Depositing User:

Archives

Date Deposited:
02 Feb 2022 13:51
Last Modified:
02 Feb 2022 13:51
URI:
http://eprints.oxfordarchaeology.com/id/eprint/5301
Actions (login required)