Taylor, Karl (2014) Land to the South of Low Borrowbridge Roman Fort, Low Borrowbridge, Cumbria. Geophysical Survey Report. Project Report. Oxford Archaeology North. (Unpublished)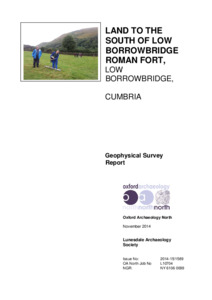 Preview
PDF




L10704 Geophysical Survey Report.pdf


Download (1MB) | Preview
Abstract
Lunesdale Archaeological Society (LAS) has conducted a number of investigations at Low Borrowbridge Roman Fort (NGR NY 6094 0127) in recent years, including the excavation
of a high status building to the south of the fort. As a result of this excavation and due to the lack of knowledge about the associated extra-mural settlement at Low Borrowbridge, LAS requested that Oxford Archaeology North (OA North) carry out a programme of geophysical survey within a field to the south of the fort (NGR NY 6106 0099). Most of the area of the fort is a scheduled monument (SM 13265); therefore the survey was carried out in the area of the field outside of the scheduled area.
OA North and LAS agreed that the two complimentary techniques of magnetometry and electrical resistance be used, which OA North carried out over two separate visits on 2nd April and 18th and 19th July 2014. An important element of the survey was to involve members of LAS and a number of volunteers both assisted with the survey and carried out
data collection.
Both geophysical survey techniques revealed several responses suggestive of buried archaeological remains. A great number of the responses were only visible in either one but not both data plots. There were several linear responses suggestive of two differently aligned field systems, as well as features potentially associated with an extra-mural settlement. There was also an alignment of ditched features that coincided with the orientation of Low Borrowbridge fort to the north. One of the field systems was visible in both data sets and was clearly later than features potentially associated with the extramural
settlement. A putative connection to the fort in the form of a possible holloway was also visible. Several responses suggestive of buried structures of potential archaeological
origin were present in both data sets. Whether some of these are associated with either Low Borrowbridge Roman Fort and associated settlement or the cemetery to the south is open to conjecture but given the location of the field it cannot be discounted.
Actions (login required)