Fletcher, Taleyna (2004) Prehistoric, Roman and Medieval Features at The Lady Adrian School, Cambridge: An Archaeological Investigation. [Client Report] (Unpublished)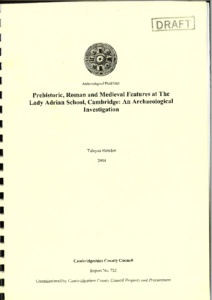 Preview
PDF




CCCAFU_report723.pdf


Available under License Creative Commons Attribution Share Alike.
Download (2MB) | Preview
Abstract
The Archaeological Field Unit (AFU) of Cambridgeshire County Council conducted an archaeological evaluation on the playing fields of Chesterton Community College, to the north-west of the Lady Adrian School, Courtney Way, Cambridge between 11th and 18th May 2004. The work was commissioned by Mr Richard Bircham of the Property and Procurement Division of Cambridgeshire County Council. The work was carried out in advance of development of the site for a car park as part of the plans for expansion and development of the existing school site.
The investigation comprised one open area excavation measuring approximately 40m sq in an area previously investigated by the AFU, and two additional trenches, totally 40m in length within the proposed development area.
Both trenches and the open area revealed the presence of archaeological features; two prehistoric pits a prehistoric ditch with evidence of re-cut in the Roman period, two medieval ditches, one with stakeholes in its base, a post-medieval furrow and a rubbish pit.
Archaeology was encountered at approximately 0.50m from the ground surface.
Item Type:
Client Report
Uncontrolled Keywords:
Cambridge, cambridge, Cambridgeshire, cambridgeshire, Evaluation, evaluation, archaeological evaluation, Iron Age, iron age, Roman, roman, Medieval, medieval, Post-Medieval, post-medieval, post medieval, Post Medieval, 723, report 723, Report 723, CCCAFU report 723, Chesterton, chesterton, Pottery, pottery, pot, ceramic, sherd, vessel, Iron Age pottery, iron age pottery, Roman pottery, roman pottery, Medieval pottery, medieval pottery, Post-Medieval pottery, post-medieval pottery, post medieval pottery, Post Medieval pottery, ditch, iron age ditch, roman ditch, medieval ditch, post-medieval furrow, furrow, ridge and furrow
Subjects:
Geographical Areas > English Counties > Cambridgeshire
Period > UK Periods > Iron Age 800 BC - 43 AD
Period > UK Periods > Medieval 1066 - 1540 AD
Period > UK Periods > Post Medieval 1540 - 1901 AD
Period > UK Periods > Roman 43 - 410 AD
Depositing User:

Archives

Date Deposited:
06 Apr 2022 10:56
Last Modified:
06 Apr 2022 10:56
URI:
http://eprints.oxfordarchaeology.com/id/eprint/5308
Actions (login required)