Atkins, Robert (2004) An Iron Age and Roman Settlement on Land North of The Brook, Sutton, Cambridgeshire: An Archaeological Evaluation. [Client Report] (Unpublished)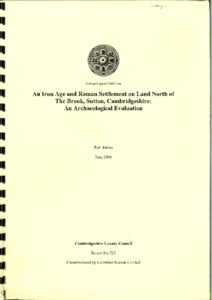 Preview
PDF




CCCAFU_report725.pdf


Available under License Creative Commons Attribution Share Alike.
Download (2MB) | Preview
Abstract
Between the 4th and 17th May 2004 the Archaeological Field Unit (AFU) of Cambridgeshire County Council conducted an archaeological evaluation of land north of The Brook, Sutton, Cambridgeshire (TL 4427 7916) in advance of construction of 106 houses.
Twelve trenches and an open area of c.11m by c.6m adjoining trench 2 (total length 550m) were excavated within the proposed development area (c.3 ha). The extreme eastern part of an Iron Age and Roman settlement was uncovered in the north-western corner of the development area. Trenches to the north-east, east and south found no archaeological remains showing that the majority of the settlement was to the west. This settlement was on a south facing slope overlooking the fens about a kilometre to the south.
A large sub rectangular watering hole for cattle measuring c.7m by c.5m and more than 1.8m deep was found. A small ditch ran from the south side of the watering hole and may represent as overflow channel leading to lower land to the south. Some of the watering hole's edges were poached by animal use. A post hole directly to the south of the watering hole may have been part of a mechanism to extract water.
After the watering hole had gone out of use, it was backfilled as a single process with soil from at least two different sources within the settlement. Material was tipped into the hole mostly from he north. Within these layers there was a moderate to large quantity of middle Iron Age and Roman pottery, animal bone as well as some daub with wattle impressions. Environmental evidence from the backfill of the watering hole shows that crop processing was taking place in the vicinity of the watering hole. It is therefore likely that mixed farming was being carried on around the settlement.
Item Type:
Client Report
Uncontrolled Keywords:
Cambridgeshire, cambridgeshire, Sutton, sutton, Evaluation, evaluation, archaeological evaluation, 725, report 725, Report 725, CCCAFU report 725, Iron Age, iron age, Middle Iron Age, middle iron age, Roman, roman, watering hole, pasture, Pottery, pottery, pot, ceramic, vessel, sherd, Iron Age pottery, iron age pottery, Middle Iron Age pottery, middle iron age pottery, Roman pottery, roman pottery, crop processing, animal bone, animal bones, bone, bones, animal remains
Subjects:
Geographical Areas > English Counties > Cambridgeshire
Period > UK Periods > Iron Age 800 BC - 43 AD
Period > UK Periods > Iron Age 800 BC - 43 AD > Late Iron Age 100 BC - 43 AD
Period > UK Periods > Iron Age 800 BC - 43 AD > Middle Iron Age 400 - 100 BC
Period > UK Periods > Roman 43 - 410 AD
Depositing User:

Archives

Date Deposited:
28 Jan 2022 09:29
Last Modified:
28 Jan 2022 09:29
URI:
http://eprints.oxfordarchaeology.com/id/eprint/5309
Actions (login required)