Cooper, Spencer (2004) Roman Remains at Downing Court, Swaffham Bulbeck, Cambridgeshire. [Client Report] (Unpublished)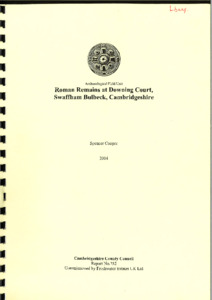 Preview
PDF




CCCAFU_report752.pdf


Available under License Creative Commons Attribution Share Alike.
Download (2MB) | Preview
Abstract
Between the 20th and 24th January, 2004 an archaeological evaluation was undertaken at Downing Court, Swaffham Bulbeck. (NGR TL5551 6256) by staff of the Archaeological Field Unit (AFU) of Cambridgeshire County Council. The proposed development involved the construction of 20 new dwellings. The work was carried out in accordance with a Brief for an archaeological evaluation issued by Kasia Gdaniec of the Cambridgeshire County Council Archaeological Service (Planning Application No H/100/1854FUL). The evaluation revealed a number of Roman post holes, pits and ditches. Significant stratigraphy was revealed in the western end of Trench 3 with a group of pits truncating an earlier field boundary. The ditches uncovered in Trench 3 may be continuations of those noted in Trench 2.
Roman building material and metal work was found in the topsoil and in features. The recovery of box flue tiles and tegulae suggest the presence of a significant Roman building in the vicinity. A copper alloy artefact (recovered by metal detecting) may also indicated the status of the site.
Following the evaluation a geophysical survey was carried out which showed a range of anomalies across the site. Theses anomalies were examined (as far as possible) during the monitoring of subsequent groundworks.
The results of all three stages of work (evaluation, geophysical survey and archaeological investigation) suggest that there is a Roman villa or farmstead in the vicinity.
Item Type:
Client Report
Uncontrolled Keywords:
Swaffham Bulbeck, swaffham bulbeck, Cambridgeshire, cambridgeshire, Roman, roman, box flue, tegulae, villa, farmstead, 752, report 752, Report 752, CCCAFU report 752, Evaluation, evaluation, archaeological evaulation, CBM, cbm, Ceramic Building Material, ceramic building material, Roman CBM, roman CBM, boundary, boundary ditch, field boundary, pit, pit group
Subjects:
Geographical Areas > English Counties > Cambridgeshire
Period > UK Periods > Roman 43 - 410 AD
Depositing User:

Archives

Date Deposited:
22 Jun 2021 12:04
Last Modified:
22 Jun 2021 12:04
URI:
http://eprints.oxfordarchaeology.com/id/eprint/5330
Actions (login required)